Watch Video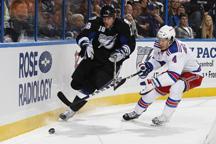 Play Video
Steven Stamkos celebrated his spot at the top of the NHL scoring list. His Tampa Bay Lightning took on the New York Rangers on Wednesday.
Martin St. Louis set up Stamkos for a big shot that was stopped, but Ryan Malone was there to knock the rebound past Henrik Lundqvist. 1-0 Lightning.
The Lightning went on a power play 8 minutes later. Stamkos had another shot blocked. The puck came out to Teddy Purcell. He set Stamkos up again and Malone shovelled-in the rebound. The Lightning went up 2.
Five minutes into the second period, Tampa's St. Louis got the puck again. He crossed to Steve Downie and Downie found Stamkos streaking in for a perfect tip-in. It was an NHL-best 21st goal of the season for Stamkos. He leads Sidney Crosby on the list by six goals.
Later in the period, Purcell fed Downie for an open shot from the slot. Brett Clark tipped it past Lundqvist to make it a 4-0 game.
More from the Lightning: Sean Bergenheim passed to Mattias Ritola. He tapped it to Victor Hedman and the defenseman's big blast found the target. 5-0.
The Rangers rallied to score three goals in the third period but it wasn't enough.
Final score: 5-3 Tampa Bay wins.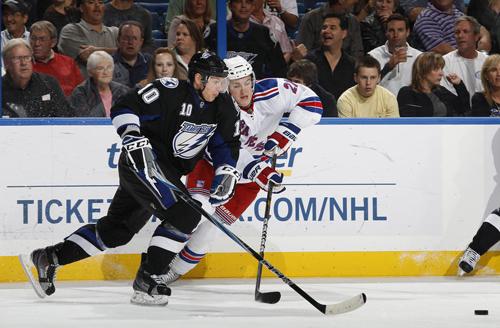 Tampa Bay Lightning took on the New York Rangers on Wednesday.
Canadiens beat Kings 4-1
In other action, the Montreal Canadiens took on Los Angeles Kings.
Midway through the first period, Mathieu Darche almost lost the puck, but managed to feed Andrei Kostitsyn. He shot and scored the first goal of the game...the Canadiens take the lead.
Later in the period, the teams skated four-on-four. Roman Hamrlik passed to Michael Cammalleri. He took a mighty windup and the shot somehow made its way through traffic and into the net. It's 2-0 for the home team.
Two minutes into the second period, Montreal's Carey Price stopped a try, but Alex Martinez scored on the rebound to pull L.A. to within one.
But the Canadiens responded with two more scores to make it a 4-1 final.
Editor:Jin Lin |Source: CNTV.CN