Watch Video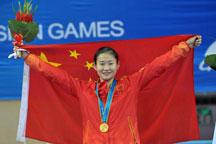 Play Video
With Feng Lanlan's win in women's karate, China's gold medal tally at the Asian Games reached 184. That number surpasses the 183 record set at the Beijing Asian Games 20 years ago.
My colleague Wang Guan has been reporting from the Asian Games where he takes a look at what this new record means to China and its chances at 2012 London Olympics.
"Old icons have shone and new stars have emerged. As the Asian Games come to a close, the Chinese delegation will be remembered for setting a new gold medal record, and for providing us with moments that took our breath away."
Those moments of glory over the past 14 days thrilled many people in this country.
With one day to go until the end of the Games, China is likely to hit the 200 gold medal mark, making it the country with the most medals at any major international competition.
But veteran CCTV commentator, Sun Zhengping, who has been covering sports for 30 years, believes the record number of golds is not a reason for the nation to rest on its laurels.
Sun Zhengping, Veteran Sport Commentator, said, "183 gold medals is just a number. In a major sports meet, especially for the next Olympics, it is the events like swimming, athletics and team sports like football that carry the most weight. China hasn't shown much improvement in these events this time in Guangzhou. If we do a breakdown, China still won most of its golds from events it is used to dominating at, like gymnastics, diving, weight-lifting, and badminton. "
China's historic gold-winning momentum has set in motion a debate on what the accomplishment means for the country. Many are asking if the success of China's elite athletes indicates grassroots sports will follow suit? Are ordinary folks becoming happier and healthier from taking part in sports themselves?
Earlier, we threw this question to the President of the International Olympic Committee President, Jacques Rogge.
Jacques Rogge, President, International Olumpic Committee, said, "Elite sport and grassroots sport are both important. You would not have a broad base if there is no elite. If you don't have a Yao Ming, or Liu Xiang for people to admire, they would not practice sport. So one is complementary for the other.So one is complementary to the other."
Perhaps an encouraging result from this year's Asian Games is that over 60 percent of China's gold-winning athletes are under 23 years old, they will be at their prime at the 2012 London Olympics. And in the meantime,
it's not hard to imagine that some emerging stars will become new icons that could inspire many young people to take up a sport and love it.
Editor:Zhang Pengfei |Source: CNTV.CN