Watch Video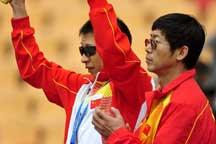 Play Video
We begin the Asia Para Games in Guangzhou, as it was another good day for China's athletes in their quest to win gold.
In track and field, China's Li Duan was favorite for the long jump F11 title, as he claimed two golds and broke the world record in Athens Para Olympics and also crowned in Beijing Para Olympics.The former Chinese basketball player would leap 5 meters 96 to earn gold.
His special victory dance brought the best out of the crowd.
China dominates in table tennis
Ge Yang made his debut in Guangzhou Asian Para Games. Yang has already won top honors in the Olympics, world championships and world cups, as a result has won the "grand slam" in table tennis. Ge Yang took on 16-year-old Lu Weichen from Chinese Taipei, and used all the skill and experience to beat the opponent 3-0 in just 15 minutes.
His second opponent was a 32-year-old Iraqi veteran. Ge Yang was dominant again, easing to another 3-0 in 15 minutes. Ge Yang sits top of the group with two victories.
While 21-year-old Feng Panfeng also made his debut. He's been playing since he was a 12 year old. He got the gold in Beijing's ParaOlympic Games. His first opponent in Guangzhou was 30-year-old Rahbany Elie from Lebanen. And it soon became a lopsided match, Pan cantered to a 3-0 victory in just 11 minutes.
China claims gold in wheelchair fencing
In the men's wheelchair fencing, 30-year-old Hu Daoliang took on Chung TC from Chinese Hong Kong in the final. Hu was China's flag holder during the opening ceremony, and he eased into the final with two wins. He continued his momentum in the final and beat chung easily to win the men's spoil B title.
Swimming pool medals go to Chnese atheletes
Eighteen year old Xu Qing from China is the world and Asian record holder in the 50 meter freestyle S6 event. He performed well in the preliminary round, and many were tipping the youngster to win gold and beat his own record. Xu led from the start and finally claimed gold by a big margin. He finished in a time of 30"42. But he wasn't able to beat his own record.
Later in the men's 50 meter freestyle S7 event, China's Pan Shiyun won the gold and bettered his own Asian record.
While China's Zhao Ming also claimed gold in the men's 100 meter breaststroke S8 event, adding to China's domination in of the pool.
Editor:Zheng Limin |Source: CNTV.CN