Watch Video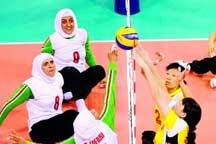 Play Video
Volleyball is a fast and physical sport. It is also the case for disabled people who play the game sitting down. Numerous competitors in Guangzhou have overcome some incredibly difficult moments in their lives. However, most of Iraq's team at the Asian Games have not only had to deal with overcoming personal disabilities, but also overcome the odds in their social ones too.
No.12 Jubouri Hadi is Iraq's ace spiker. As the leader, he is also the heartbeat of the side. Hadi lost his right leg during the Iran-Iraq war where he served in the army. After recovering from the trauma of losing a limb, he started playing sitting volleyball. He's been playing now for 22 years and helped Iraq finish in 7th place at the 2008 Beijing Paralympics. But what you see on court is only possible by working hard off it, in sometimes impossible conditions.
Jubouri Hadi, Leader of Iraq Volleyball Sitting Team, said, "We don't have a fixed place to train, we use different universities and using the facilities in each of them."
Coach of Iraq Volleyball Sitting Team said, "There are few venues that we can use in Iraq. The living conditions and social security are not steady, so it is a big challenge for us."
Regardless of the dangers the team faces day in day out, the team enjoy the sport and always insist on training. Hadi is a professional sportsman and father to three children while his wife is a teacher.
Nearly half of the squad in Guangzhou have similar background to Hadi. But together, the sport they play brings them great happiness.
"The volleyball has changed me a lot. I become more easy going and optimistic after playing it. It is volleyball that helps me make new friends. Both I and my teammates insist on playing no matter what happens in Iraq. " Jubouri Hadi said.
Iraq had an easy 3-0 win over Thailand on Monday. The coach said Hadi didn't show all his talent.
"He's the best player in our team. In the match with Thailand, he didn't try his best, he's got more in his tank and we want to see that." Coach of Iraq Volleyball Sitting Team said.
After insurgency, comes hope. The government in Iraq is now helping develop the game and send the team overseas to help them improve their skills.
After the Guangzhou games, The Iraqi team will turn their attention to London 2012 where Hadi hopes to still be playing and finish higher than in 7th.
Editor:Zheng Limin |Source: CNTV.CN