Watch Video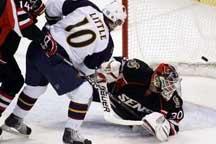 Play Video
It was supposed to be a happy birthday for the Ottawa Senators after the side have played 700 homes games. But there is always one party pooper in a crowd. That role fell to Atlanta's Bryan Little as he scored two on the night, his second coming in Overtime to hand the Thrashers a deserved victory.
After Jim Slater opened the scoring for the visitors - Bryan Little made it 2-0 with less than three minutes left in the period when he scored for a third straight game.
But the Senators were not about to lay down and give up. Their captain Daniel Alfredsson started a comeback late in the second period when he brought an end to his 10-game scoreless drought. Thrashers 3-1.
Jason Spezza scored Ottawa's second goal in a span of 95 seconds when a penalty shot was awarded. Defenseman Zach Bogosian the offending player on this occasion. Spezza converted the penalty shot past Pavelec for his eighth goal to even it up at three apiece.
But in overtime, Spezza went the wrong way and Little pounced. He went down the ice and snapped the puck past Brian Elliot. It would finish 4-3.
Kings makes 5-0 win over Detroit Red Wings
Elsewhere, the Los Angeles Kings took on the Detroit Red Wings.
The visitors opened the scoring courtesy of Wayne Simmonds when he put in a rebound from the slot following a shot from Matt Greene. Kings 1-0.
Jonathan Quick's 26 saves in the second period preserved the Kings lead. Quick's most spectacular effort, 51 saves, on the night came when he dived across the net to get his stick in front of Tomas Holmstrom's rebound shot during Detroit's first power play. Holmstrom's effort brought the best out of Quick as his lightening reflexes helped make a sprawling save.
Anze Kopitar scored twice in the third period to seal a 4-0 lead for the Kings. The Slovenian's second goal came after a long range blast from Dougherty.
And Jack Johnson completed the rout with a power play goal six minutes into the period to make it 5-0 and four consecutive wins against the Red Wings.
Editor:Zheng Limin |Source: CNTV.CN