Watch Video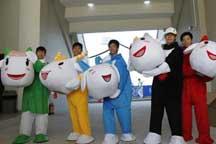 Play Video
The para sport athletes earned their excellent results via great determination and hard work. But their achievements cannot be separated from efforts of the Volunteers working behind the scenes.
Blind athletes need to rely on their ears during the competition. Volunteers are on standby and follow closely what happens between competitors or teams and control the cheers and applause from the audience.
Para Asian Games volunteer said, "According to rules in swimming, before the players make their jump at the whistle, all volunteers should give this hand signal to the audience to remind them of keeping quiet. When the whistle is blown, everyone is free to let out cheers."
Race assistant volunteers help the blind athletes to adjust their direction, while help is also on hand in the locker rooms and beyond.
During the competition, sign language volunteers help the hard of hearing listen to the radio so they can keep up on their closest rivals and strongest competitors.
"This is the sign language for champion, this is for runner-up, and this is for bronze medalist." Volunteers said.
The volunteers' multi-functional participation will surely put themselves on an honorable podium in the end.
Related stories
Editor:Zheng Limin |Source: CNTV.CN