Watch Video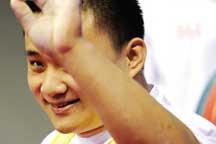 Play Video
What happens when two of the worlds best Para games powerlifters take each other on. Well in the case of China's Liu Lei and Iran's Ali Hosseini, there's usually some banter and a lot of lifting weights. The two friends and rivals were in action in Guangzhou and our reporter Li Wanmei caught up with the pair and filed this report.
Liu Lei and Hosseini Ali are two rivals on the court of powerlifting. They competed with each other twice before this Asian Para Games. Liu Lei lost to Ali in 2006 but this time he felt confident, after a win earlier in the year.
Liu Lei, Chinese Powerlifter said, "I met him 4 months ago in the world championship and I beat him by five kilograms, so I feel confident today."
Liu lei's confidence was well founded. He established his leading position after the first attempt and then broke the world record. Ali on the other hand, settled for second place in the end. A good sport, he praised Liu's performance.
Ali Hosseini, Iranian Powerlifter, said, "He's a very strong opponent. His performance was great today. I think he has a bright future."
Through these encounters, Liu and Ali have gotten to know each other. Both of them are looking forward to meeting again in the future.
"As athletes, maybe we are competitors on court, but we are great friends off court. Ali has very high competing abilities. I look forward to competing with him in the 2012 London Olympic Paralympics." Said Liu Lei.
"I'll do my best preparation for the 2012 London Olympic Games (Paralympics?) and compete with Liu Lei there again." Said Ali Hosseini.
Editor:Zheng Limin |Source: CNTV.CN