Watch Video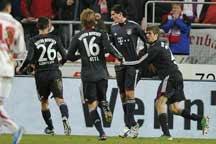 Play Video
Germany's Bayern Munich is climbing back up the ladder in the Bundesliga. The defending league champs took on Stuttgart in Berlin on Sunday.
Bayern Munich in the black uniforms, midway in the first half...Mario Gomez sliced through the defense. He fired Bayern ahead and announced the start of a goal-scoring spree.
Bayern would get its second a few moments later.Gomez sent a desperate cross to teammate Thomas Mueller. He'd score easily and make it 2-0.
Gomez hat-trick gives Bayern 5-3 win
2 minutes before intermission,France midfielder Franck Ribery came in from the left side. He blasted a right footer into the top corner over the edge of the box. Bayern Munich led 3-0 at the half.
Stuttgart cut into the lead just after the restart.Martin Harnik turned in a deep cross from right side...he made it 3-1.But Gomez would grab his second goal for Bayern Munich in the 52nd minute. Ribery delivered the ball and Gomez tapped it past the goalkeeper's saving try. Bayern 4, Stuttgart 1...and the champs were rolling in Berlin.
Muller and Gomez worked well together and sent the defence into chaos again, two minutes later. Gomez finished off this play with his hat-trick goal. Bayern Munich took a commanding 5-1 lead. Stuttgart tried to come back with a pair of late goals...but time ran out. Bayern Munich wins 5-3 and sits in fifth place on the Bundesliga table.