Watch Video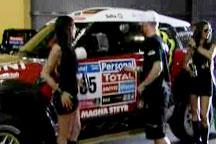 Play Video
Experts say the Volkswagen Toureg is the car to beat at this year's Dakar rally, but a trio of challengers is ready to take its crown. Mini-Cooper, Toyota and Hummer are among the contenders that spectators will keep their eyes on during the annual event.
One of the seven X-Raid entries is a new monster Mini.
The British cars are familiar sights on streets and highways around the world. But this year, they'll take on the Dakar rally's off-road challenge, with the goal of matching up with the top-ranked Volkswagens.
Guerlain Chicherit, Mini Team Driver, said, "The car seems to be good. We haven't done a comparison to the X3, but the car is well constructed. We don't really know the speed comparison, and of course we don't know if we're on the same level as the blue cars. So, therefore the first two stages will be very important for us, to indicate where we are."
The durability of the legendary Hummer will also get a test at the Dakar rally, behind the driving skill of American rally veteran Robby Gordon. The team's changed the car's color from black to bright orange. Gordon says there are some other changes, too.
German rally fans will focus on the Hamburger-Software team and drivers Dr. Thomas Schunemann and Matthias Kahle. They'll pilot a red 2-wheel drive buggy through the Dakar event. Jun Mitsuhashi of Japan and Frenchman Alain Guehennec will put their Toyota Land Cruiser through the paces in a bid to stay as close as they can to the favored X-Raid and Volkswagen runners.
Editor:Zheng Limin |Source: CNTV.CN