Watch Video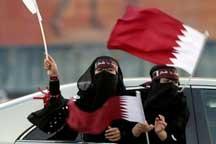 Play Video
The Asian Cup is a special test for the nation of Qatar. The country won the right to host the FIFA World Cup in 2022, and anticipates enormous opportunities for the Middle East.
Hosting the 2006 Asian Games made a huge impact in Qatar and the entire region. Our correspondent Danial Khan talked to the enthusiastic people of Qatar and found out how they are looking forward to the World Cup.
The World Cup is the biggest sporting event globally. With estimates of television audiences for the 2010 FIFA World Cup final exceeding 700mn,Qatar has already started the long journey to meet the challenges as far as the preparations are concerned.
Many believe that it was a wise choice to hold the event in the Middle East.
Football Enthusiast, said, "We expect Qatar to improve and organize the 2022 world cup so we hope that Qatar will progress the organization and develop it."
As the AFC 2011 Cup continues, many hope that Qatar can develop sufficient infrastructure to accommodate the 2022 events that will also benefit future generations and bidding for other events like the Olympics.
Football Enthusiast, said, "saw for the future of Qatar is very nice for football and they change everything for the future."
They also say that the impact of Qatar winning its bid for the 2022 FIFA World Cup would be reflective for the state, its people and the region.
Football Enthusiast, said, "This country, whenever they want to do anything they can do it."
Special markets have been setup to accommodate tourists from around the world. People who are visiting Qatar for the AFC 2011 are enjoying the night life Doha.
Large screens projecting highlights of the matches have been setup
everywhere. Musical concerts are being held to attract tourists…
Doha is surely portraying an ambiance of a lively city.
Football Enthusiasts
1. I hope all countries are happy in Qatar.
2. I'm very happy in Qatar, very beautiful country.
3. I am happy for Qatar.
Experts say, given the geographic advantages that Qatar has, the number of tourists expected to visit the 2022 World Cup is likely to increase.
Qatar is a booming sporting and tourist destination and with the grip provided by this win to host FIFA world cup in 2022, it has the potential to attract lots of visitors.
Many believe that one of the most significant expectations from this award is that it will get the world closer to the Middle East and create multi-cultural ties across the region with the world.
Editor:Zhang Pengfei |Source: CNTV.CN