Watch Video
Play Video
Serbia's Novak Djokovic took on Andy Murray of Great Britain, in Melbourne.
The opening set proved to be a nail-biting affair. Murray went looking for the first Grand Slam title for Britain in a men's singles championship in 75 years. He tied the set at 4-all when Djokovich hit wide. The Serbian star hoped to repeat his triumph back in 2008 in Melbourne. He broke Murray's serve in the next game, and snatched the set 6-4 when the Scot challenged a baseline shot which proved to be out. It got worse from there for Murray. He seemed to lose his poise in the next set. A fired-up Djokovic went on a run and raced out to a 5-0 lead.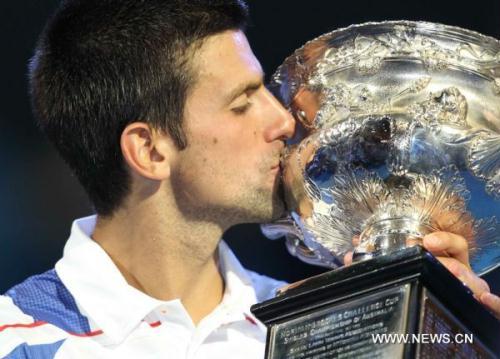 Novak Djokovic of Serbia kisses the trophy during the awarding ceremony of the men's
singles' final against Andy Murray of Britain at the 2011 Australian Open tennis
tournament in Melbourne, Australia, Jan. 30, 2011. Novak Djokovic won 3-0 to claim
the champion.(Xinhua/Meng Yongmin)
Djokovic gave up two games but still took the second stanza with a variety of bruising baseline shots. The second set was a one-sided setback for Murray. Djokovic grabbed it 6-2.
In the third set...Murray's body language showed defeat. Last year's Australian Open runner-up played with a tired look, while Djokovic was full of energy. Serbia's best won the set 6-3, and with it, Djokovic won his second Australian Open title. Britain's 75-year wait for a male grand slam singles champion continues. The winner dedicated his triumph to his home country.
Related stories