Watch Video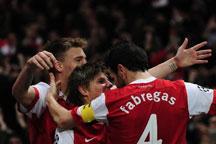 Play Video
Teams are playing the knockout stage in soccer's Champions League. Arsenal took on Barcelona in the first leg of their round of 16 tie on Wednesday.
Arsenal played at home in London and was trying to control the action. Cesc Fabregas lofted a pass for Robin Van Persie. He kept keeper Victor Valdes on his toes in the Barca goal.
Lionel Messi and David Villa nearly combined for a score after 15 minutes. Villa delivered a smooth pass but Messi could not finish. His chip went wide and there was still no score.
But the pair would combine again in the 26th minute. Messi pushed the ball ahead to Villa this time and the Spaniard connected. Arsenal goalkeeper Wojciech Szczesny was victimized and Barcelona led 1-0. Barca celebrated the early advantage, but there was much more to come.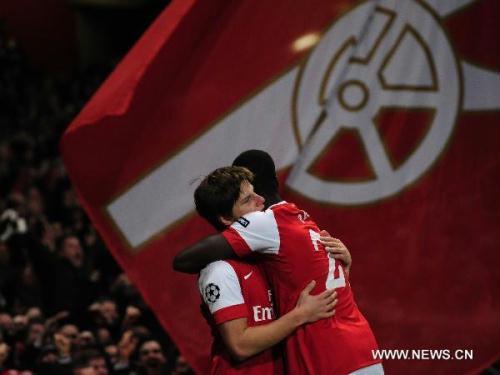 Andrey Arshavin (L) of Arsenal celebrates his goal with teammate Emmanuel Eboue
during their UEFA Champions League match against Barcelona at the Emirates
Stadium in London, Britain, Feb. 16, 2011. Arsenal won by 2-1. (Xinhua/Zeng Yi)
Messi almost put another point on the board for Barcelona in the first half. He got the ball past the goalkeeper with a rushing header, but the referee made an offside call on the play. The replay showed a clear violation. Messi found himself ahead of the play with a chance to score, but the goal was disallowed. The score remained 1-0 at halftime.
Second half...the home side kept pushing for an equalizer and Barcelona's defenders gave in to the pressure. Goalkeeper Valdes let the Gunners back in the match. Van Persie hit a shot inside the near post in the 78th...Arsenal delivered with a remarkable scoring play. Valdes looked like he had the threat covered, but the Dutchman scores on a tight angle...1-1.
Five minutes later, Cesc Fabregas and Smir Nasri worked some more magic for Arsenal. They got the ball to Andrey Arshavin for the match-winner...2-1 Arsenal. The teams now head to the Camp Nou in Barcelona for leg two.