Watch Video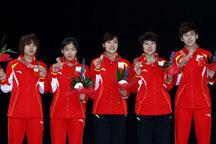 Play Video
The fast action of short track speed skating. China's top talent didn't make the lineup, so the team's younger skaters took the spotlight at the 2011 Short Track Speed Skating Championships in Sheffield, England.
Canada, South Korea, China and the Netherlands were in the chase for gold during the women's 3000 meter relay finals. China sent Fan Kexin, Li Jianrou, Liu Qiuhong and Zhang Hui on the course. Canada took the lead at the start and China was not far behind. It was still close with 16 laps to go in the race. China had chances to overtake the Canadian skaters, but showed enough patience to wait for better opportunities to take the lead. One of those chances came with 8 laps to go. Fan Kexin took the lead after a baton exchange and stretched her advantage as the race came to a close.
It got rough at the end...South Korean's Yang Shin Young fell with 5 laps left. She slid hard to the side of the circuit and crashed into the wall. South Korea lost its chance for a medal.
China finally took the gold in a time of 4 minutes,16.295 seconds. The Netherlands and Canada landed second and third. It's the second gold medal in the championships for the young Chinese women speed skaters.
Liu Qiuhong claimed a bronze medal in the 3000 meter women's single event. South Korea's Cho Ha-Ri got the gold, and US's Katherine Reutter claimed silver.
Liang Wenhao adds one silver and one bronze
In the men's 1000 meter singles...the four skaters in the hunt included China's Liang Wenhao, South Korea's Noh Jinkyu and Canadian brothers Charles and Francois Hamelin.
Charles Hamelin took the lead first, and Liang Wenhao took off in pursuit. Midway through the race, it was Charles' brother Francois who grabbed the point. Then, with two laps to go, it was Noh Jinkyu's turn. He shifted into overdrive and took the victory in a time of 1 minute, 28.552 seconds.
Charles Hamelin took the silver and Liang Wenhao claimed the bronze medal.
Liang Wenhao stepped up to silver in the men's 3000 meter singles final.
Editor:Zheng Limin |Source: CNTV.CN