Watch Video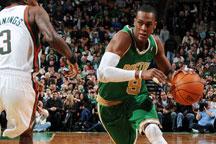 Play Video
The NBA's Boston Celtics wanted to put an end to a three-game slide in their game against the Milwaukee Bucks on Sunday. They turned up the defensive heat and set a franchise record for fewest points conceded in the shot clock era.
1st Quarter, Just two minutes into the game...Ray Allen beat the shot clock buzzer. His lay-up bounced around the rim and dropped in to put Boston ahead.
Second Quarter, All-star guard Rajon Rondo bounced the ball to Allen. He hit a short shot from the paint. Boston by 16.
Then, it's a Celtics defensive stop followed by a classic fast break play. Kevin Garnett to Rondo to Paul Pierce. Pierce scored and was fouled by Carlos Delfino. The three-point play put the Celtics up 18. Pierce finished the game with 14 points, while Allen led Boston with 17.
Allen went two-for-two beyond the arc. He hit this one inside the final five minutes of the third quarter...the Celtics led by 20.
The game's top highlight happened in the fourth quarter...Avery Bradley drew the defence and dished the ball to Jeff Green. He cut right back through traffic and just threw the ball up for a circus score to close out the match. Boston beat Milwaukee 87-56 and snapped its losing streak. It was the lowest score against the Celtics since they beat the Hawks 62-57 at Providence, Rhode Island on February 27th, 1955.
Editor:Zheng Limin |Source: CNTV.CN