Watch Video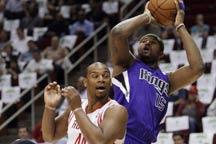 Play Video
In NBA, the Houston Rockets hopes of making the playoffs are still alive, albeit barely. The Rockets had a chance to move two games back of the Memphis Grizzlies for the final playoff spot in the West if they could get by the Sacramento Kings at home.
Midway through second Q, DeMarcus Cousins drained a three point play down under, the Kings took a narrow lead.
Kevin Martin fired a three, to pull the Rockets back within 2 deep in the Q.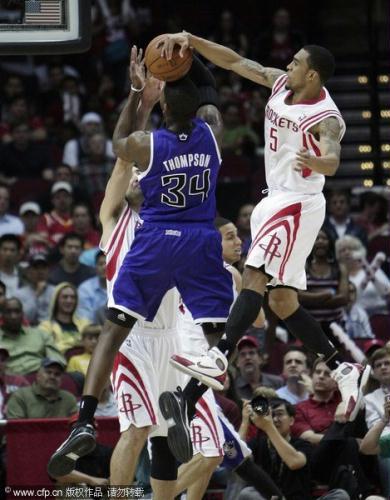 Sacramento Kings center Jason Thompson (34) has his shot blocked by
Houston Rockets' Courtney Lee (5) as Luis Scola helps defend in the
fourth quarter of an NBA basketball game Tuesday, April 5, 2011,
in Houston. Sacramento won 104-101.
Late in the third, Martin, who tallied 30, stole the ball, driving to the rim for a big throwdown, the Rockets stayed in contention. but still trailed by 6
Kyle Lowry hit a bucket, as the Rockets closed in again, but that momentum shortlived.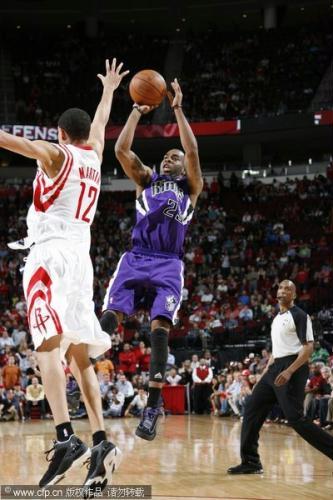 HOUSTON, TX - APRIL 5: Marcus Thornton #23 of the Sacramento
Kings shoots the ball over Kevin Martin #12 of the Houston
Rockets on April 5, 2011 at the Toyota Center in Houston,
Texas. (Photo by Bill Baptist/NBAE via Getty Images)
Courtney Lee knocked down a baseline three, Houston were down by 7.
Lowry, who had 15, buried this three. Rockets made it 4 point game with just ove two to play, but Marcus Thornton would put a nail in this one, 104-101 would be the final for the Kings. Houston, three games back of Memphis with only four games to play.
Related stories