Watch Video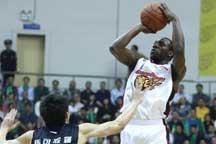 Play Video
In the CBA semi-finals Guangdong is trying to get to the last round for the 9th straight time. The defending champs entertained Dongguan, holding a 2-0 lead in their best of five series.
Dongguan needed the win to keep its playoff hopes alive. The squad got off to a solid start behind American Josh Akognon.
But Lester Hudson nailed a three at the other end. Homestanding Guangdong turned the game around.
But the challengers stayed close. Meng Duo beat the buzzer with a three at the half. Dongguan made it a two point game.
Second half Wang Shipeng a three point play, Guangdong pushed its lead toward double digits.
Zhu Fangyu from distance and Guangdong pulled away, the champs up by 19.
Dongguan went on a run, but Hudson buried a three. He hit for 41 points, a game high for Hudson.
Akognon gave Dongguan one last chance in the fourth quarter. His back-to-back threes pulled the visitors back to 2.
But that was as close as his team would get. Akognon and Dongguan could not execute a last chance to tie the game. Guangdong closed out a 115-111 win, and will play in the finals for the 9th season in a row.
Li Chunjiang, Guangdong CoacH, said, "After the three games, we advanced to the finals. I think the first game was the best we played. We concentrated very hard. We were not as focused in the next two games as we were in the first one. We need to work harder mentally for the finals."
Editor:Zhang Pengfei |Source: CNTV.CN