Watch Video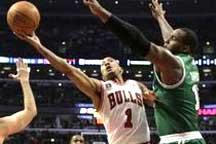 Play Video
A huge match-up in the NBA Thursday night pitted the Chicago Bulls against the Boston Celtics. The two teams are battling for the top spot in the Eastern Conference and this match-up would go a long way in deciding who would get that number one seed.
Chicago Bulls legend Scottie Pippen on hand as the team unveiled a bronze statue of the long-time great. And from the past we turn to the present and new Bull legend Derek Rose. Who was doing whatever he wanted during the game, he had 10 points in the first quarter alone -- the most spectucular coming on this drive where he absoulutely abuses Rajon Rondo.
The Celtics tried multiple ways to defend the super-slick point guard but to no avail. Check out this deuce. What touch -- the sweet kiss of the glass. Rose had 30 points on the night along with 8 assists and 5 rebounds.
Rose was on another level tonight -- and had another gear. Leading the fast break himself, going coast to coast.
Rondo had his hands full guarding Rose and could only muster 7 points and 7 assists, including this lay-up.
The Celtics, up by one early in the third Q.
The Celtics big three had off-nights as well, combining for a meager 32 points. Rose's running mates proving a little more productive -- and check out the effort from Luol Deng. Two of his 23 points come on this fast break flush.
Chicago, up by 7.
Carlos Boozer also getting into the act adding 14 points and 12 rebounds for the Bulls -- this jumper in the lane, putting Chicago up 14.
Chicago would go onto the 97-81 win. The Bulls are peaking at the right time, that is their 17th win in 19 games. They are now four games up on Boston with four to play. So they are all but assured of clinching home-court advantage in the East.
Editor:Zhang Pengfei |Source: CNTV.CN