Watch Video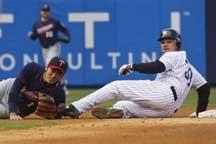 Play Video
We turn now to Major League Baseball and the New York Yankees and Minnesota Twins, wrapping up a three game set at the new Yankee Stadium. This, the rubber match of the series after the teams split the first two.
Top of the 4th inning, tied at 1's. Jason Kubel drives the AJ Burnett offering past Mark Teixeira and into the right field corner.
Nick Swisher went after it and Jim Thome jogged home to give Minnesota a 2-1 lead. 2-1 Minnesota.
Bottom of the 4th inning, Twins starter Francisco Liriano gets touched up by Andruw Jones. Two runners on for Jones, and he rips one to left...Alex Rodriguez came around to score from second base to tie things up at two apiece. 2-2.
Another offseason acquisition, catcher Russell Martin was up next he, would ground out to first...but it would drive in Robinson Cano third and the Yankees went ahead 3-2.
Jones advanced to third base on the play and the next batter knocked him home.
Brett Gardener's soft fly, going to just drop in in front of Michael Cuddyer, Jones cruised home safely. 4-2 New York.
Bottom 7, 4-3 Yankees and a scary play.
Mark Teixeira Teixeira chopped the ball towards third and the Twins tried to turn a double play.
Tsuyoshi Nishioka got Nick Swisher out at second but the two collided and the Japanese infielder was injured. Swisher was trying to break up the double play and slid wide to catch Nishioka's leg and Nishioka unfortunately, suffered a broken left leg on the play.
Top of the 9, the Yanks still up by one, and Enter Sandman Mariano Rivera, shuts the door, geting Delmon Young to ground to to short for the final out of the inning.
Rivera's 4th save of the season, as the Yankees take 2 of three from the Twins.
Indians 1-0 Red Sox, Boston 0-6 on Year
Elsewhere, the winless Boston Red Sox took on the Cleveland Indians in Cleveland. Bottom of the 8th inning, scoreless and the Indians get on the board.
With Adam Everett on third, and the Indians break out the ol' suicide squeeze play. Asdrubal Cabrera bunted the ball down the line. Everett scampered home to score and Cabrera was thrown out at first.
The damage was done as the Indians had taken a 1-0 lead.
Top of the 9 and the Red Sox down to their final out JD Drew, will hit closer Chris Perez. Pinch runner Darnell McDonald had taken off from first, rounded second and tried to get back to the bag, but slipped and was tagged for the final out of the game. Perez earned the save as the Indians defeated the Red Sox 1-0, sweeping the three game series.
The BoSox now on 0-6 on the year, their worst start since 1945.
Editor:Zhang Pengfei |Source: CNTV.CN