Watch Video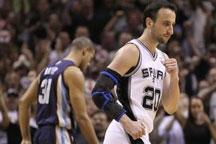 Play Video
In the NBA a top Western Conference club tries to get back in step after a first-game stumble, San Antonio looks to rebound from a shocking loss to Memphis and The Spurs welcome back Manu Ginobili from an elbow sprain.
Ginobili made an immediate impact in game 2. Spinning and hitting a floater early in the second quarter. He scores 17 points in his return.
Zach Randolph pulls up and hits a jumper for Memphis. But the Spurs hold him to 11 points for the game.
Midway through the third quarter...Ginobili on the drive, and another three-point-play. San Antonio takes a narrow lead.
San Antonio dictates the pace midway through the final term with Tim Duncan tallying 16 for the Spurs.
The Grizzlies' Sam Young keeps the visitors within shot. His basket makes it a 1 point game down the stretch.
But Richard Jefferson hits a clutch three. The Spurs beat Memphis 93-87, and level the series at 1-game-all.
Mamu Ginobili, 17 pts, said, "WE played a pretty good game, it is not like we struggled and we played awful. We just missed a few shots, a few turnovers but we had a good game. We knew we had to bring it back today, give even a better effort especially defensively, we did! Of course going down to Memphis down 2-0 was going to be really hard to overcome so we brought some edge we played hard and we got the win."
Editor:Zhang Pengfei |Source: CNTV.CN