Watch Video
Play Video
The brilliance of Barcelona has once again denied Manchester United Champions League glory with a sensational performance at Wembley overnight.
For half an hour, the match followed the same pattern as the 2009 final. United unsettled Barcelona with constant pressure on the man in possession but only dominated for the first 10 minutes before Barcelona picked up the speed and remained unchallenged.
Barcelona pushed the United players deep into their own half and kept them there, with Xavi, David Villa, Andres Iniesta and Lionel Messi finding space where none seemed to exist. Xavi created the first goal, drawing four opponents to the edge of the area before releasing a sensationally timed pass to Pedro Rodriguez and Edwin van der Sar had no chance.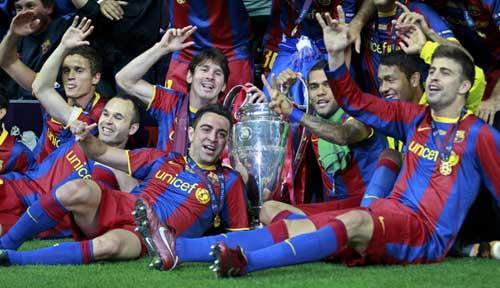 Barcelona players celebrate with the trophy after their Champions League final
soccer match against Manchester United at Wembley Stadium in London May 28, 2011.
[Photo/Agencies]
The frenetic pace of the match was unbelievable ....United managing an equaliser against the run of play only seven minutes later. From its own throw, Barcelona gave away possession on the right touchline to spark a five-player move as skillful as any in the match. Rio Ferdinand, Fabio de Silva and Michael Carrick were all involved before Wayne Rooney carried the ball to the edge of the area and, slipping it to Ryan Giggs with the outside of his right boot, continued his run. The veteran Giggs controlled with one touch before giving Rooney the perfect set-up to curl a shot past the reach of goalkeeper Victor Valdes.
Barcelona showed its mettle by retaining possession for almost 2 and half minutes after the restart. Messi's solo effort then sent the Barcelona fans massed at the west end of the 90,000-seat stadium wild, and the volume was just loud when Messi twisted and turned past substitute Nani near the right corner flag and carried the ball into the area.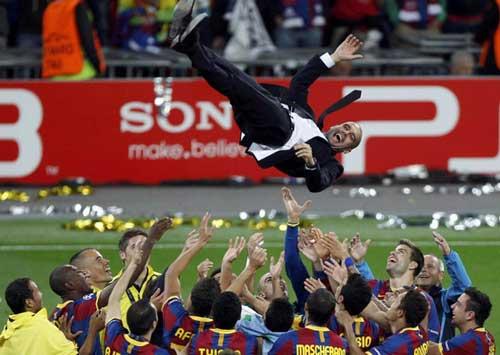 Barcelona's manager Pep Guardiola is thrown in the air by his players after their
Champions League final soccer match against Manchester United at Wembley Stadium
in London May 28, 2011.[Photo/Agencies]
The diminutive No. 10 lost control just when he looked likely to supply a killer pass but Sergio Busquets did it for him, finding Villa in space. The Spanish natinal striker sent the ball curling past Van der Sar. The former Netherlands goalkeeper had already made stops from Messi, Xavi and Iniesta in this, his final match before retirement, but could do little but watch it sail past. A third Champions League title in six seasons and fourth overall means that only Liverpool, AC Milan and fierce rival Real Madrid have won more European Cups than Barcelona's four.
Pep Guardiola, FC Barcelona Manager, said, "My future will be very tough because I will be in another club, another place and I will think where are these kind of players, it will be a problem to find them. But maybe it will be a challenge for me to be in the right moment go to another place and try to play as best as possible with the new players, it is a challenge. For now I have one more year and in my admiration, so in this culture a manager can be 20, 25 years in Spain, and Italy it is impossible."
Sir Alex Ferguson, Manchester UTD Manager, said, "Yes it is the best team we have faced, I think everyone acknowledges that and I accept that. I think it is not easy when you have been well beaten like that to think any other way. Noone has given us a hiding like that, it's a great moment for them. They deserve it because they play the right way and they enjoy their football."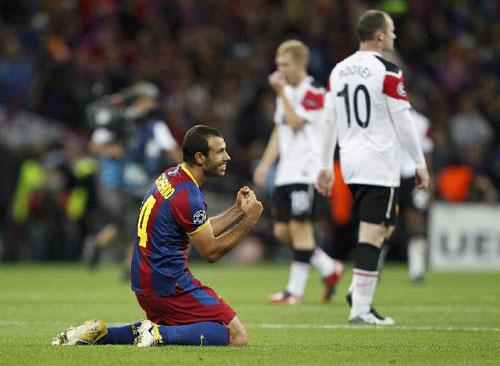 Barcelona's Javier Mascherano (L) celebrates his team's victory against Manchester
United at the end of their Champions League final soccer match at Wembley Stadium
in London May 28, 2011. [Photo/Agencies]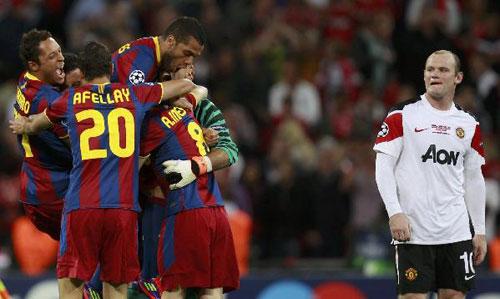 Manchester United's Wayne Rooney (R) looks at Barcelona's players celebrating after
their Champions League final soccer match at Wembley stadium in London May 28, 2011.
[Photo/Agencies]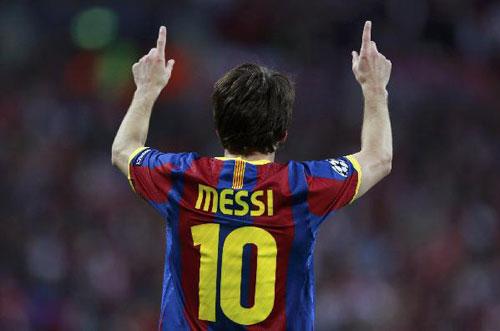 Barcelona's Lionel Messi celebrates a second goal against Manchester United during
their Champions League final soccer match at Wembley stadium in London May 28, 2011.
[Photo/Agencies]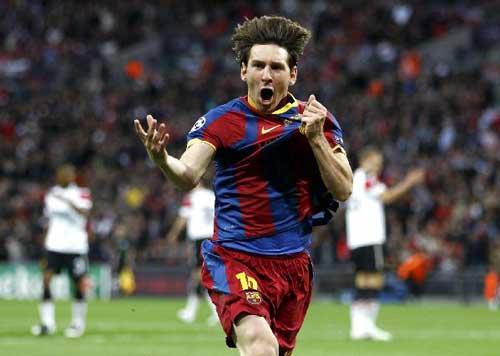 Barcelona's Lionel Messi celebrates a second goal against Manchester United during
their Champions League final soccer match at Wembley stadium in London May 28, 2011.
[Photo/Agencies]
Related stories
Editor:Zhang Pengfei |Source: CNTV.CN