Watch Video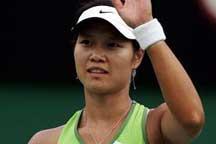 Play Video
Li Na is making Grand Slam history again in women's tennis. She became the first Chinese to make it to the last 8 at Roland Garros. She reached two semi-finals on clay in the run up to this tournament, in Madrid and then Rome, and her racquet could be part of the story.
After her victory in the last 16, Li Na has now made it to at least the quarter-finals of all of the four major Grand Slams. She beat the ninth seed Petra Kvitova with an impressive performance that saw the World Number Seven fight back from defeat in the first set and being three games down in the decider.
The turning point was apparently the decision of her husband, and former coach, Jiang Shan, to leave the Philippe Chatrier Court, when she was behind in the final set, after which she won all six remaining games.
Li Na said, No, no, I mean because I was a little bit feeling sad, you know? Because after the first game, I lost on my serve game, and he was doing 'this'. So I think: 'What is he doing that for? Maybe he thinks I'm stupid.' So after the changeover, I say: 'Why are you watching me play if you think I'm stupid?' So after he left and I win six games in a row. And after the match I say: 'You see? After you left I win the match.'"
At Roland Garros the players have available to them a made-to-order stringing service for their rackets to ensure that their equipment is exactly to their liking. The staff can take stringing qualifications and some work a full-time, year-round stringing job.
Li Na has been assigned a specific person who takes care of her stringing needs all the way through the tournament and we went to see him in action."
Philippe Julien, manager of Roland Garros Official Stringer Team, said, "The specifications of the racket are secret, we can talk about the tension, but every player has a customized racket. So sometimes some players are requesting some more weight in the handle of the racket, some others in the head size of the racket. So that's their own recipe."
Jamie Pethick, Roland Garros Stringer, said, "I mean to string at a Grand Slam, you need to be quick. You have to get the rackets out in twenty minutes or so for each player. You need to work quickly, have good attention to detail and be very precise. Otherwise some of the players in particular, they are not going to be very happy."
Dan Levy, Roland Garros, France, said, "Make no mistake today's win was a huge victory for Li Na who becomes the first ever Chinese player to reach the quarter-finals stage here at Roland Garros.
She's no stranger to making history however: she was the first Chinese player to win a WTA tournament, that was back in 2004. She was also the first to reach a Grand Slam quarter-final in 2006. And this year, at the Australian Open, became the first to reach a Grand Slam final.
She's in the quarter-finals here, she has a very good chance to go far. We at least know that her racket should be in good hands.
Li Na will face World No. 4 Victoria Azarenka in her last eight campaign. Azarenka is the highest seed left in the draw. She lost to the Chinese in three of their last four meetings, but it will be the first time they'll face each other on clay. The winner advances to the French Open women's semifinals.
Editor:Liu Fang |Source: CNTV.CN