Watch Video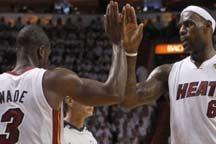 Play Video
Game 1 of the NBA Finals, a rematch of the 2006 association Finals, as the Miami Heat and Dallas Mavericks tipped off in Miami on Tuesday night. The Heat's LeBron James attempting to win his first NBA final game.
Early on, LeBron takes the feed and goes hard to the rack, he gets it to go...and one, Miami up by 6 just over halfway through the first.
2nd Q now, Miami up one, and Dwyane Wade takes the little kick-out, spots up and drills the triple to put the Heat up by 4.
All three members of Miami's big three had solid nights, Chris Bosh hitting the jumper here to put the heat back up by four. He had 19 in game one.
Minutes later though, the Mavs would take the lead. Dirk Nowitzki banks home the little fade-away J, he would drop 27 for Dallas.
And before the half was out, a little showtime as Jason Kidd fed Tyson Chandler for the ally-oop and the foul, the Mavs with the narrow lead.
And Dallas would head into the half with the lead, Jason Terry, who scored 12 on the night, drops the triple to make it a 4 point ballgame.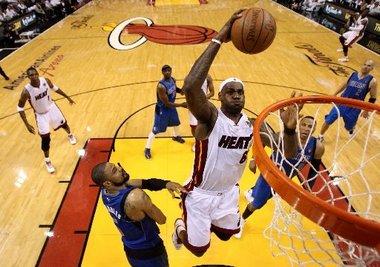 Lebron James dunks over Tyson Chandler in Game 1 of the NBA
Finals.
The Mavs would lead by 8 early in the second half, when the Heat began their comeback...D-Wade with the reverse lay-up to cut the lead to 6.
Then, it's LeBron connecting with Wade off the fast break, D-Wade, the hoop and the harm, the Dallas lead now 3.
Halfway through the frame...the Mavs up 2 and J. J. Barea looking to extend the lead. But, Chris Bosh is there for the huge block...as Miami was about to start running.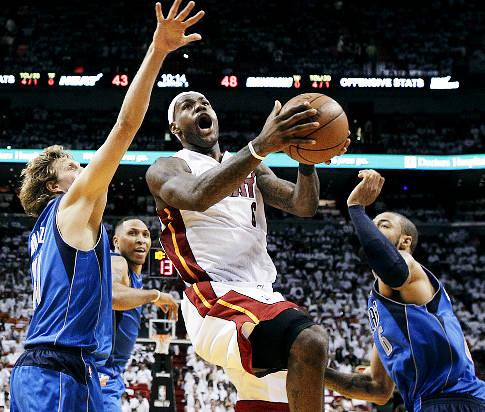 LeBron James scores 24 points, grabs nine rebounds and hands out five assists
in Miami's 92-84 victory over the Dallas Mavericks in Game 1 of the NBA Finals.
Dying seconds of the third, Heat up one now, and LeBron James hits the crazy fade-away triple to put Miami up 4 heading into the 4th.
Three of the King's 24 on the night.
Less than four to go now, Heat up six..and Dwyane Wade makes the lead 9, right in Jason Kidd's face.
Wade would drop 22 and add 10 boards.
And as he's done throughout the playoffs, LeBron took it over down the stretch, slicing through the D for the massive dunk...and one, Miami up by 10.
And the King, would put an exclamation mark on this one in the final minute, the alley-oop, sealing game one for Miami as they go on to take it 92-84 to open up a 1-0 lead in the NBA Finals.
Related stories
Editor:Shi Jierui |Source: CNTV.CN