Watch Video
Play Video
China's tennis mega star Li Na continued her bid to become first Asian player to win a Grand Slam title at the French Open. She took on three-time Grand Slam champion Maria Sharapova of Russia in the semifinals at Roland Garros.
Li had beaten Sharapova in their last two meetings, and she opened the match strong by breaking the Russian's serve. The Chinese star went on to make it 3-0 in the first with a power forehand scoring shot.
Li Na took the early lead in the match. Sharapova regained some composure and trimmed the scoreline to 4-3. Watch this long rally in the 8th game, it ended with Li Na blasting a backhand winner to take a big 5-3 lead in the first set.
Sharapova claimed the next game, but hit the net on an easy put-away volley in game 10. Li clinched the opening set 6-4.
Sharapova seemed to recover in the second set. She jumped to 2-0 lead and managed to hold onto a one game cushion. Then things began to slip away from the Russian. Sharapova made a series of errors, including a double fault that brought Li back to 4-games apiece.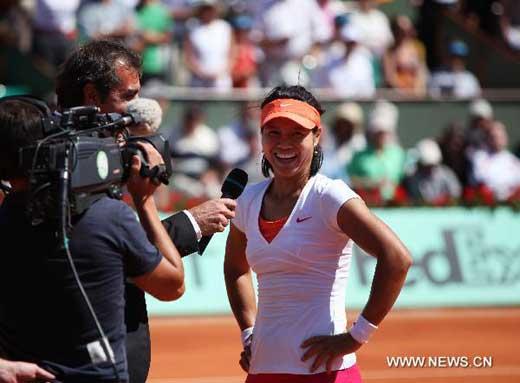 Li Na of China reacts during the interview after the women's semifinal against Maria
Sharapova of Russia at the French Open tennis tournament in Paris June 2, 2011. Li won
2-0. (Xinhua/Gao Jing)
Li bounced back to take a 6-5 lead as Sharapova continued to fade. This match almost went to a second set tiebreak, but Sharapova double-faulted the winning point.
Li claimed the set 7-5. The sixth seed triumphed in one hour and 48 minutes and advanced to her second Grand Slam final, where she'll take on defending French Open champ Francesca Schiavone of Italy.
Sharapova had built up a lot of momentum during the tournament with her dominant power tennis. Some experts figured her as favourite for the one slam she hasn't won. But all the expectations went flat. Sharapova never really recovered from a terrible start. Her heavy-hitting comeback fell just short, and Sharapova had nothing but praise for Li Na.
[Match Video] Li Na and Azarenka battling for semi-final berth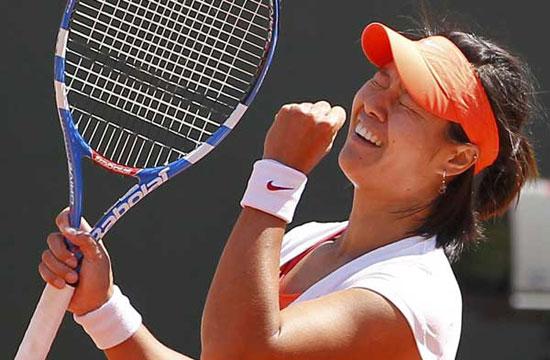 Li Na of China reacts after defeated Victoria Azarenka of Belarus during their quarter-
final match at the French Open tennis tournament at the Roland Garros stadium in Paris June
1, 2011. [Photo/Agencies]
After a final in Melbourne, needless to say Li Na is the first Chinese player to reach the semi-final stage here at Roland Garros.
[Match Video] Li Na blazes into French Open final four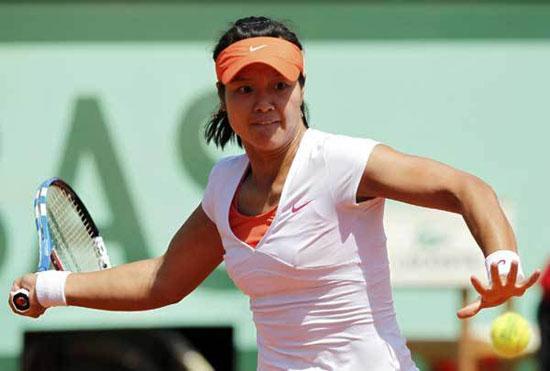 Li Na of China returns the ball to Victoria Azarenka of Belarus during their quarter-final
match at the French Open tennis tournament at the Roland Garros stadium in Paris June 1,
2011. [Photo/Agencies]
At the French Open, China's Li Na is one win away from her second Grand Slam final of the year. She's reached the semi finals after making light work Belarusian to reach her first ever French Open semi final. Full story >>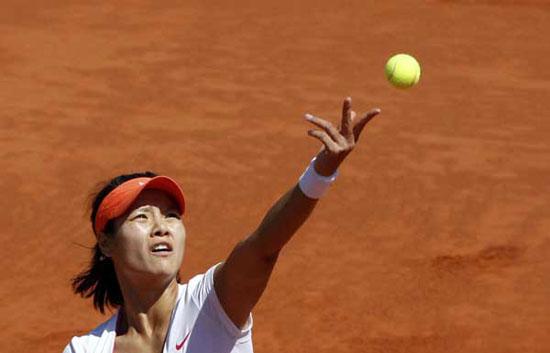 Li Na of China serves to Victoria Azarenka of Belarus during their quarter-final match at
the French Open tennis tournament at the Roland Garros stadium in Paris June 1, 2011.
[Photo/Agencies]
Li Na battles into last 8 at French Open
China's top ranked tennis player, Li Na, was challenging for a quarter final berth at the French Open today with a match against the Czech Republic's Petra Kvitova. Full Story>>
China's Li Na reaches quarterfinals at French Open
China's top ranked tennis player, Li Na, was challenging for a quarter final berth at the French Open Monday with a match against the Czech Republic's Petra Kvitova. Full Story>>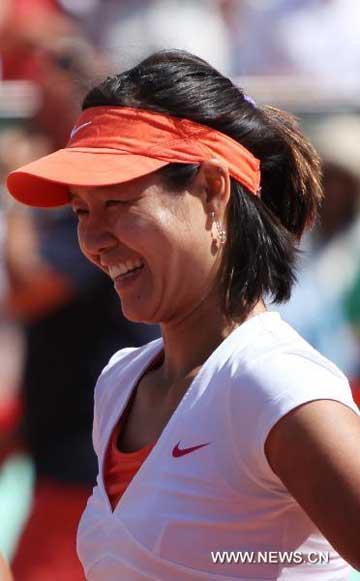 Li Na of China reacts during the interview after the women's
semifinal against Maria Sharapova of Russia at the French Open
tennis tournament in Paris June 2, 2011. Li won 2-0.
(Xinhua/Gao Jing)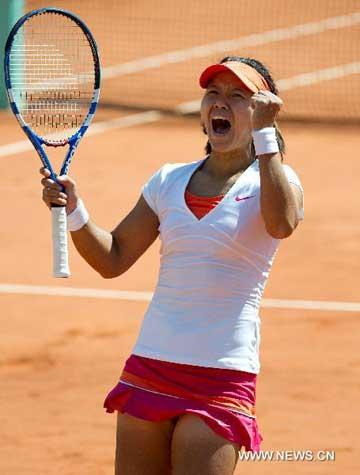 Li Na of China celebrates after the women's semifinal against
Maria Sharapova of Russia at the French Open tennis tournament
in Paris, June 2, 2011. Li won 2-0. (Xinhua/Bai Xue)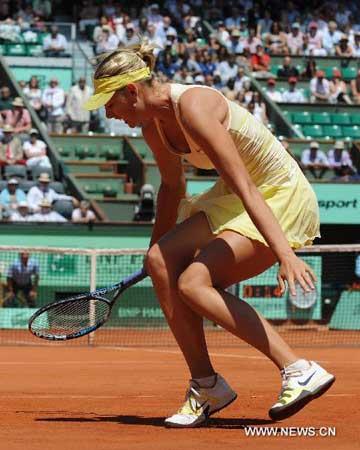 Maria Sharapova of Russia reacts during the women's semifinal
against Li Na of China at the French Open tennis tournament
in Paris June 2, 2011. Li won 2-0. (Xinhua/Xu Liang)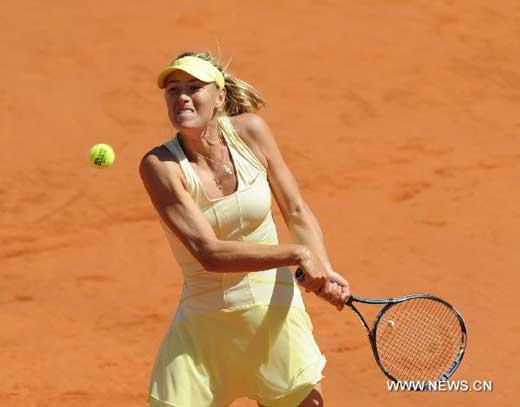 Maria Sharapova of Russia returns the ball during the women's semifinal against Li Na
of China at the French Open tennis tournament in Paris June 2, 2011. Li won 2-0.
(Xinhua/Xu Liang)
Editor:Liu Fang |Source: CNTV.CN