Watch Video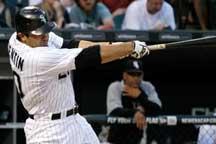 Play Video
The Chicago White Sox had to feel good about their chances about beating the Mariners. The pale hose had won 9 straight home games and 13 out of 14 against Seattle in Chicago. And Monday's night's matchup between the clubs just happened to be in the Windy City.
2nd inning and Paul Konerko 'my goodness' golfs this one into the leftfield seats off Mariners starter Felix Hernandez to put the White Sox on top 1-0.
Chicago went back to work against last year's top pitcher in the American League in the 3rd. With one down, Omar Vizquel triples down the rightfield line to drive in two runs and stretch the White Sox lead to 3-0.
Carlos Quentin would then followed that up with a two-run blast off the leftfield foul pole. His 14th homer of the season opens up a 5-0 White Sox lead.
And the Mariners got on the board. Miguel Olivo lifts one into left -- and his sacrifice fly would be deep enough to Adam Kennedy. That would make it 5-1 for the Sox, and that's how it would end.
Red Sox dump Yankees 6-4
Off to New Yankee stadium for a match-up between Boston and New York. Jacob Ellsbury hits the fourth lead-off homer of his career. Red Sox lead 1-0.
Still in the first and Kevin Youkilis brings in a runner with a sacrifice. Bosox up 3-buzz.
3-1 in the second inning. Dustin Pedroia at the dish and he rips an RBI double into left. That makes it 4-1 for the Beantowners.
Off to the fifth and Big Papi gets a hold of one. Turns on a fastball and it is a no doubter, that increases the Boston lead to 6-1.
Home half of the inning and Nick Swisher hits a two-run double to cut the Boston lead to 6-3.
Ninth inning and Jonathan Papelbon, in for the save, he gives up an RBI single to Jorge Posada -- but Papelbon would snuff out the Yankees rally and pick up his 200th save in Red Sox uniform. Boston wins it 6-4.
Editor:Liu Fang |Source: CNTV.CN