Watch Video
Play Video
Quite a few stereotypes were laid to rest in game six of the NBA final series today - 'white men can't jump', 'European players are soft' and 'basketball is a young person's game' are all destined for the recycle bin as the Dallas Mavericks put on a huge show in claiming their first NBA Championship against the Miami heat.
It was the heat that got the early jump on the series leaders, Lebron James'starring early to put the heat up by 3 early in the opening quarter. While Dallas struggled to settle Miami embarked on a 12-1 run.
Heat in front 20-11, it was enough to shock the Mavericks into gear - Terry laid in an acrobatic bucket just the beginning of his 27 point tally.
The Heat stuck to their game plan of limiting access to Dirk Nowitzki, it paid off, the Heat closes the gap to five with this Mario Chalmers fast break bucket. An 11-0 run put the Heat back in front, Eddie House hits a three, 42-40.
And the pressure was beginning to tell on both sides. But it was Terry to the rescue, knocking down consecutive triples to put Dallas ahead by two. Terry filling the role expected of Nowitzki.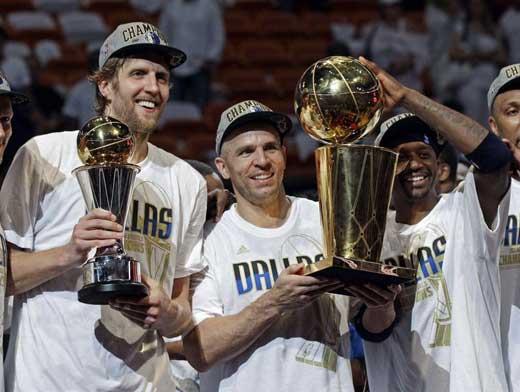 Mavericks win 1st NBA title
Deep in the third quarter, Jason Kidd nailed a triple, Dallas in control 79-71, and Miami's final's composure was put to the test. The Heat tried everything in the final quarter, Dwyane Wade sank a two and drained a foul bringing them back to within six.
But it was Dallas's show, on a roll, Dirk Nowitzki cuts in, Dallas with a ten point margin and the clock counting down. It's Dirk again, finding rhythm just two and a half minutes away from their first NBA championship, ahead of the Heat by ten.
Working together Jason Kidd sets up Dirk again, it's an 11 point lead and a minute to go.
The Heat was gone, the match petered out to a 105-95 point win to the Mavericks and a title at last to the old guys - with most of Dallas's roster well into their 30's. Nowitzki was awarded the final series MVP trophy and he gets to wear a ring at last - after searching for it with his Dallas team mates for the past 13 years.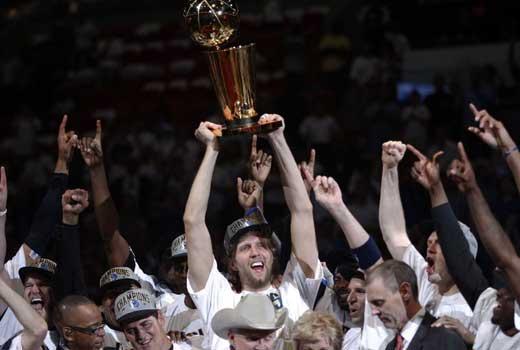 Mavericks win 1st NBA title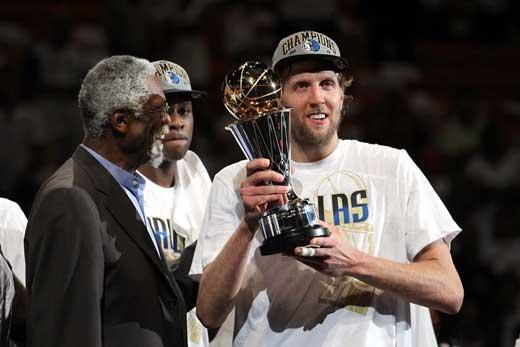 Mavericks win 1st NBA title
Related stories