Watch Video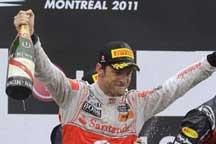 Play Video
An extraordinary Canadian Formula One Grand Prix has been sensationally won by McLaren's Jenson Button.
The race took four hours to complete because of torrential rain, five safety cars were used and Jenson Button pitted six times before taking advantage of a last-lap error by Sebastian Vettel and racing on to take the chequered flag.
Formula One world champion and current title leader Vettel started from pole but due to the persistent drizzle the race started behind a safety car.
McLaren's Lewis Hamilton made contact with Red Bull's Mark Webber on the opening lap. On the 8th, he tried to maneuver his car around his team mate, but didn't have enough room and was squeezed against the wall causing irreparable damage. Hamilton retired from the race.
Following a couple of altercations and a drive-through penalty for breaking the Safety Car speed limit, Button was languishing near the back of the field when the rain really started to bucket down. The red flag came out on the 25th lap and quite a delay followed with the cars getting some attention in the pits.
When the race resumed Button was involved in another collision on lap 44 when he made contact with Fernando Alonso that sent the Ferrari into a spin and left the Spaniard a frustrated man after his race was also over.
On lap 65, Button passed the six-time world champion Michael Schumacher for second place. The Englishman recorded the fastest lap of the day on Lap 69 one minute, 16.956 seconds to sit on the tail of Vettel as they entered the final lap.
As the German navigated a chicane on the backstretch, the rear of his car slipped wide and an alert Button sped past him to take the chequered flag for McLaren and his 10th career victory.
Jenson Button said, "Eventually on the last lap I was chasing down Seb and he ran a little bit wide onto the wet part of the circuit and I was able to take the opportunity and take the win but for me a fantastic race and even if I had not won today I would have enjoyed this race immensely - an amazing win and possibly my best."
Editor:Liu Fang |Source: CNTV.CN