Watch Video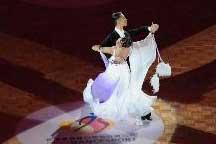 Play Video
Leg two of China's DanceSport tournament was held in Hong Kong on Sunday...where the showdown of China's best dancers wowed thousands of spectators in attendance.
The most anticipated event of the night was the Latin Dance Division Final for professional dancers. Veteran Shao Keqiang and Yang Na claimed the title with their near-flawless performance.
In the Standard Dance category, Yang Chao and Tan Yiling emerged victorious. The competition was fierce, with the top ten finishers from last year's Asian Games all attending this leg of the tournament.
After the competition, Yang and Shao, a veteran pair of 13 years, shared one of their secrets to winning the Latin title.
Yang Na, Latin Dancesport champion, said, "In the past, when we were younger, it was passion and intuition that drove us to victory. Now as we get older, techniques and skills certainly matter more. There needs to be a certain degree of passion to do well in this sport, but experience is also important."
Editor:Liu Fang |Source: CNTV.CN