Watch Video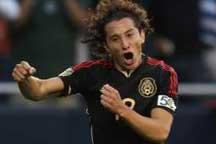 Play Video
The defending champions Mexico, looking to wrap up a dominant run of group play as they finished up against Costa Rica on Sunday.
In the 17th minute, Pablo Barrera with the corner for Mexico...it finds the head of Rafa Marquez who makes no mistake, converting to make it 1-0 Mexico.
Just two minutes later, more from Mexico. After some nice passing, Israel Castro finds Andres Guardado, who unleashes a brilliant volley. The Deportivo La Coruna midfielder putting Mexico ahead 2-0.
Guardado would add another in the 26th minute and then in the 38th....Pablo Barrera used a perfect give-and-go to make it 4-0 Mexico.
That would be the final as they finish on top of group A. Costa Rica, still with a chance to advance...but it would depend on the outcome of.
El Salvador thrash Cuba 6-1, fail to advance
El Salvador and Cuba. Just 13 minutes into the first half Cuba's Carlos Domingo Francisco turned over the ball. Rodolfo Zelaya took a left-foot shot and beat the goalkeeper. 1-0
El Salvador struck again in the 29th minute. A lazy Cuban header was picked off by Zelaya and fed to Osael Romero. Romero ran deep into the box and cut the ball over a diving Pichardo. 2-0.
In the 69th minute, Lester Blanco converted a long pass from Zelaya to make it a 3-0 game for La Selecta.
Zelaya scored his second goal of the match two minutes later, and it was 4-0.
El Salvador would go on to the 6-1 win, but that...not enough to overcome Costa Rica's goal differential advantage. It is Mexico and Costa Rica moving out of the Group A at the Gold Cup.
Editor:Liu Fang |Source: CNTV.CN