The one year countdown to the London Olympics is quickly approaching. With just over 12 months to go there is plenty of work still to be done regarding venues and preparations. But the British Olympic Association is also trying to ensure success after 2012. Peter Koveos explains.
The main focus of the BOA is to excel in 2012. But the group is looking beyond that and signed an agreement with Canada with the intention of helping Britain prepare for the 2014 Games.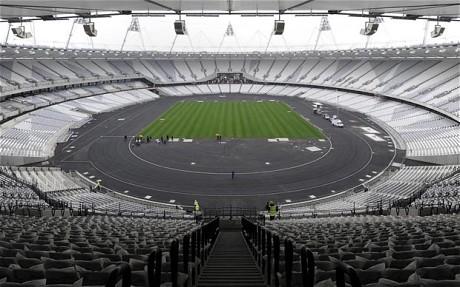 The London 2012 Olympic Stadium Photo: PA
"One of the important issues for the British Olympic Association is to support our winter governing bodies and athletes who will be competing in Sochi. And one thing the Canadians are really keen to do is to help us with that and have exchanges on coaches to provide opportunities for young winter athletes to go over and train and to compete in Canada. Conversely, they've very focused on London 2012. We have an outstandingly good relationship with their national Olympic committee and with their federations and so we will be doing everything we can to help them prepare for London 2012 and so it's an ideal fit."
Great Britain has hopes for cycling success in 2012. But Olympic champion Bradley Wiggins crashed out of the Tour de France which, if it occurred a year from now, would have kept him out of the London Games.
"But it's rare, it doesn't happen often. Bradley doesn't crash very often, that's for sure, so you've got to work through these things and obviously try and minimise the risks but you've got to race to get in the shape needed to be competitive so we have to do it."
The football team team has also been a matter of concern over the previous months.
"The home nations were consulted with by the Football Association, and we now have the ability to move forward to get to a point where we'll be able to select a team, select team managers. And I really do hope there will be some Scottish, Welsh, Northern Irish footballers that want to play for Team GB."
Editor:Li Wanran |Source: CNTV.CN