To major League baseball action, where the Oakland Athletics were hoping to cool off the New York Yankee bats, that were as hot as the weather in NYC.
The Yankees were winning the first of three against the A's 17-7 the day before in almost 38 degrees Celsius heat. A respite of sorts on Saturday, as the mercury was only hovering around 34 degrees.
Bottom two, the Yankees open the scoring, as Russell Martin chops the offering from fellow Canadian Rich Harden back up the middle. Robby Cano trots home to make it 1-0 Yankees.
Top three, and AJ Burnett grooves one for Josh Willingham, he hammers it deep to left center, it finds the bullpen for a two run shot. The A's, lead 2-1 on Willingham's 13th of the season.
Top six, bases loaded for Jemile Weeks and he'll drop a single into right. Ryan Sweeney crosses, 3-1 A's.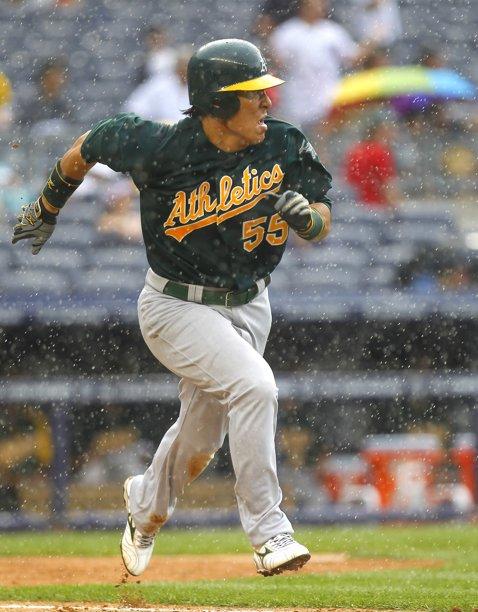 Oakland Athletics' Hideki Matsui (55) runs up the first base line for a double
in the rain during the eighth inning as he went five for five in a baseball
game against the New York Yankees at Yankee Stadium in New York, Sunday, July
24, 2011. Yankees won 7-5. (AP Photo/Paul J. Bereswill)
Bottom of six, and Harden, gets absolutely lit up by Nick Swisher. A no-doubter into the second deck in right, the solo home run, makes it a 3-2 game. Swisher, now with 12 on the year.
Former Yankee Hideki Matsui, would lead off the seventh with an answer. He yanks the first pitch he sees from Boone Logan over the wall in right-center. Give Matsui 8 on the year, 501 for his career and the A's a 4-2 lead.
Bottom of nine, the Yankees make it interesting, Mark Teixeira, the winning run at the plate and he gets a lot of the Aaron Bailey offering, but not enough. The sac fly scores one, but that would be all the Yankees could get. Bailey would shut them down for his 11th save of the season.
Editor:Zou Xian |Source: CNTV.CN