The Cubs, hosting the Houston Astros, bottom of 2 and Marlon Byrd jumps all over the Wandy Rodriguez 2-2 fastball. It finds the seats in left-center, the fifth jack of the year for Byrd, 1-0 Chicago.
Bottom five, and the Cubbies get another solo shot, this time off the bat of Geovany Soto. It clears the ivy...his 9th of the season, makes it 2-0.
Cubs starter Randy Wells had gone 5 2/3rds scoreless until Carlos Lee gets to him in the sixth. The single to left center, brings Angel Sanchez around from second, he beats the throw and it's 2-1.
Bottom 8, the Cubs put this one to bed. Infield in for Starlin Castro, but he just chops it by Chris Johnson at third. Kosuke Fokudome trots home to make it 3-1 Cubbies.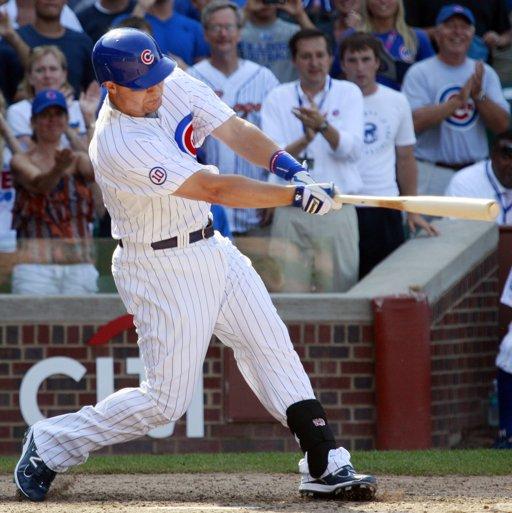 Chicago Cubs' Jeff Baker hits a game-winning single against the Houston Astros during
the 10th inning of a baseball game, Sunday, July 24, 2011, in Chicago. The Cubs won
5-4. (AP Photo/Nam Y. Huh)
Later in the frame, bases loaded, and Soto, with the hard hit grounder to Johnson at third. A great stab...but then, his throw pulls first baseman Brent Wallace off the bag. This one scored E-6 as Castro comes home to make it 4-1.
And the Cubs would ground the Astros in the ninth, Claude Marmol allowing none in the night as the Cubs win, 5-1.
Editor:Zou Xian |Source: CNTV.CN