Watch Video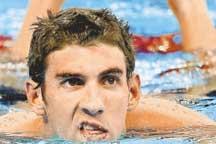 Play Video
The penultimate day of action from the World Aquatic Championships. Day 15, providing another opportunity for American swimming star Michael Phelps to be golden.
Fourteen-time Olympic Champion Michael Phelps has had a mixed meet by his own very high standards, twice finishing second behind teammate Ryan Lochte. But the American retained his 100 metre butterfly title for his third gold in Shanghai.
After turning in third place, Phelps finished strongly to beat Poland's Konrad Czerniak into silver, with his United States teammate Tyler McGill taking bronze. He now has three golds, two silvers and a bronze, with one more event to go, Sunday's 4x100 metre medley relay.
Cielo wins men's 50m freestyle
There was controversy after the next race, the men's 50-metre freestyle, where Brazil's Cesar Cielo retained the title he won two years ago. Luca Dotto of Italy was second, with France's Alain Bernard third, behind Cielo, who had been cleared to race before the championships despite a failed drugs test.
Dekker wins women's 50m butterfly
The women's 50 metre butterfly was the first event, and there was a surprise as Inge Dekker of the Netherlands beat world record holder Therese Alshammer to victory, with Melanie Henique of France taking the bronze medal.
Frenklin wins women's 200m backstroke
Melissa Franklin of the United States has emerged as one of the stars of these championships. The 16-year-old swan the third fastest time in history to win the 200 metre backstroke ahead of Australia's Belinda Hocking and Sharon van Rouwendaal of the Netherlands. It was Franklin's second gold of the championships, and there was more to come.
USA win women's 4x100m medley relay
Melissa Franklin's second gold of the night came in the women's 4x100 metre medley relay, anchoring home the United States team including Natalie Coughlin, Rebecca Soni and Dana Vollmer to victory. Team China managed a sliver ahead of Australia.
Adlington wins women's 800m freestyle
The best finish of the night came in women's 800 metre freestyle, where Olympic champion Rebecca Adlington of Great Britain fought out a duel with defending world champion and 1500 metre gold medallist Lotte Friis. Adlington trailed at the final turn but stormed past her Danish opponent to win by 0.69 seconds.
Italy win men's water polo gold
The other gold of the night went to Italy men's water polo team. Maurizio Felugo's bounce goal with 35 seconds left in the first extra period gave them an 8-7 victory over Serbia. It's Italy's first world championship win since 1978. Croatia beat Hungary 12-11 to take the bronze.
Editor:Liu Fang |Source: CNTV.CN