Watch Video
Play Video
Soccer and a rivalry match in the Under-20 World Cup. England met Argentina for a showdown in Colombia.
Both sides are in Group F for the Under-20 World Cup, and Argentina had the ball more, but its top forwards were unable to finish.
England's Callum Henry McManaman, related to ex-Liverpool star Steve McManaman, almost scored, but saw the goalkeeper stop his shot.
This would prove to be a difficult match with a deadlock too tough to break. England and Argentina played to a scoreless draw. Argentina has four points, good enough to reach the knockout stage. England holds two points and needs to win its last group match to advance.
England's Callum McManaman, front, is fouled by
Argentina's Hugo Nervo, left, during a U-20 World
Cup group F soccer match in Medellin, Colombia,
Monday, Aug. 1, 2011. Photo: AP / AP
Argentina's Erik Lamela gestures during a U-20 World Cup group F soccer match against
England in Medellin, Colombia, Monday, Aug. 1, 2011. Photo: Ricardo Mazalan / AP
Argentina's Facundo Ferreyra, center, scuffles with England's Recce Wabara, left, as
England's Nathan Baker plays the ball during a U-20 World Cup group F soccer match in
Medellin, Colombia, Monday, Aug. 1, 2011. Photo: Ricardo Mazalan / AP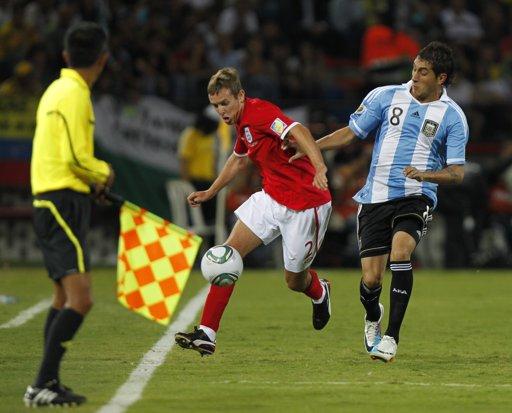 Argentina's Roberto Pereyra, right, and England's Blair Adams fight for the ball as
lineman Hermenerito Leal, of Guatemala, looks on during a U-20 World Cup group F
soccer match in Medellin, Colombia, Monday, Aug. 1, 2011. (AP Photo/Ricardo Mazalan)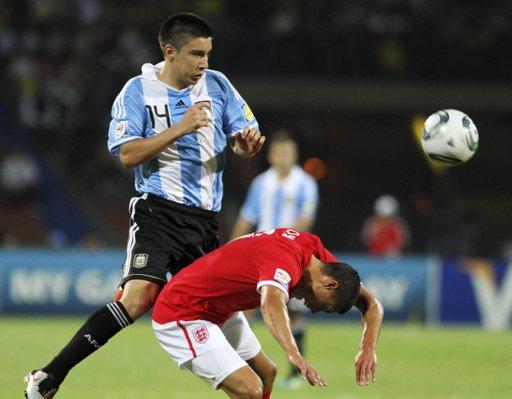 Argentina's Adrian Martinez (L) battles for the ball over England's Reece Wabara
during their U-20 World Cup soccer match in Medellin August 1, 2011. REUTERS/Albeiro
Lopera
Argentina's Adrian Martinez (R) battles for the ball with England's Blair Adams
during their U-20 World Cup soccer match in Medellin August 1, 2011. REUTERS/Albeiro
Lopera
Argentina's Erik Lamela attempts to dribble past England's Callum McManaman, right,
and England's Blair Adams, back to the camera, during a U-20 World Cup group F soccer
match in Medellin, Colombia, Monday, Aug. 1, 2011. (AP Photo/Ricardo Mazalan)
Editor:Zou Xian |Source: CNTV.CN