Watch Video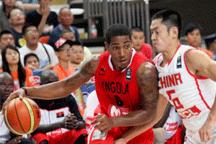 Play Video
Basketball is back in the spotlight in China. The men's national team started the 2011 Stankovic Continental Cup on Monday, without NBA player Yi Jianlian and former NBA player Wang Zhizhi in the lineup.
Angola provided the competition and took a 5-0 lead in the first quarter. But the hosts came back with 7 unanswered points of their own. China retook the lead. And the Chinese squad kept the advantage through the first stanza, ending the quarter ahead by 5.
The Stankovic Cup is China's warm-up for the Asian Championship in Wuhan next month. China played a tough match inside, and the club extended the lead in the second quarter. But then, the team went into a spin and was outplayed the rest of the way to halftime. China was outscored 16-6 and outrebounded 16-8.
The visitors hit for 16 points in the quarter and led 31-26 at the half. China chipped away in the third quarter. Zhang Zhaoxu's basket made it a 1 point game. But Angola would stretch it to 4 going into the fourth quarter.
China retook the lead down the stretch. The game was tied three times and the lead changed hands five times, before Carlos Morais put Angola on top for good. Morais scored a team-high 21 points, including five of nine 3-pointers.
China had the ball for two long-range tries in the final seconds, in an attempt to force overtime, but missed on both. Angola wins it 67-64.
Yi Li was one of three Chinese players in double-digits with 16 points. China takes an early loss in the four-team round-robin tournament.
Angola's Joaquim Gomes(C) plays against China during the
FIBA Stankovic Continental Cup basketball match in Haining,
east China's Zhejiang province on August 1, 2011. Angola
beat China 67-64. AFP PHOTO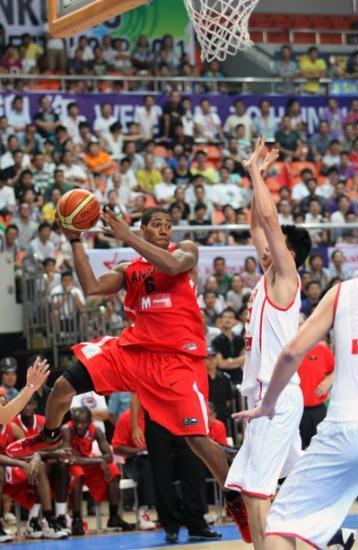 Angola's Carlos Morais (L) plays against China during the
FIBA Stankovic Continental Cup basketball match in Haining,
east China's Zhejiang province on August 1, 2011. Angola
beat China 67-64. AFP PHOTO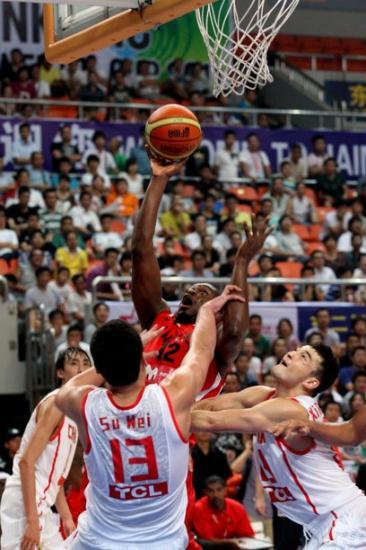 Angola's Felizardo Ambrozio (C) plays against China during
the FIBA Stankovic Continental Cup basketball match in
Haining, east China's Zhejiang province on August 1, 2011.
Angola beat China 67-64. AFP PHOTO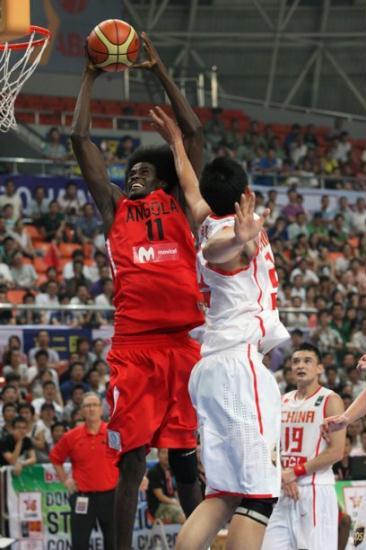 Angola's Miguel Kiala (L) plays against China's Wang Ligang
during the FIBA Stankovic Continental Cup basketball match in
Haining, east China's Zhejiang province on August 1, 2011.
Angola beat China 67-64. AFP PHOTO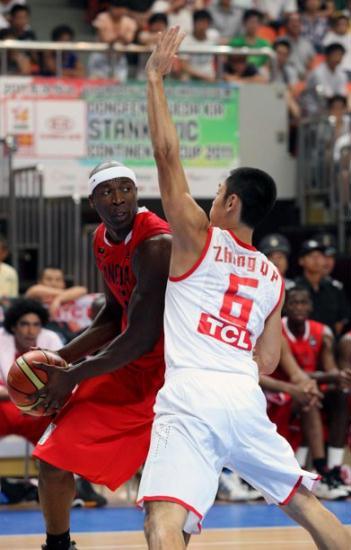 Angola's Eduardo Mingas (L) plays against China's Zhang
Qingpeng during the FIBA Stankovic Continental Cup
basketball match in Haining, east China's Zhejiang province
on August 1, 2011. Angola beat China 67-64. AFP PHOTO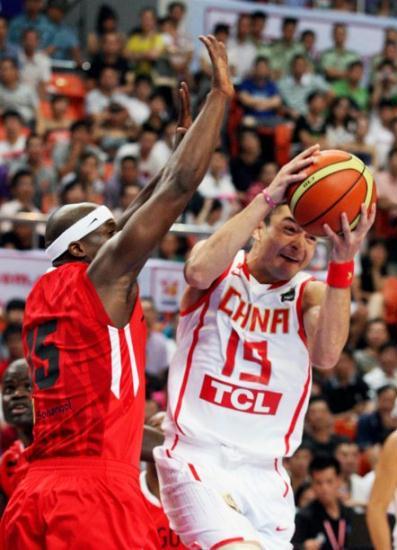 Angola's Eduardo Mingas (L) plays against China's Xi Re Li Jiang
during the FIBA Stankovic Continental Cup basketball match in
Haining, east China's Zhejiang province on August 1, 2011. Angola
beat China 67-64. AFP PHOTO
Editor:Zou Xian |Source: CNTV.CN