Watch Video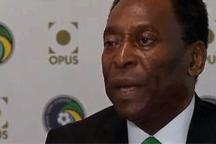 Play Video
Football's most legendary player, Pele, has been making headlines for over half a century. This week, in London, the 70 year old Brazilian great was attending an event for his former club New York Cosmos when the conversation turned to Brazil's preparations for the 2014 World Cup.
Pele was in London on Tuesday ahead of the New York Cosmos' first match for 26 years. Pele played down his feud with Brazilian FA Chief Ricardo Teixeira, the pair are known to dislike each other intensely with Teixeira not inviting Pele to last weekend's World Cup preliminary draw in Rio.
However, Pele got the last laugh after being named by President Dilma Rousseff as the country's tournament ambassador. Pele believes administrative and logistical issues will be resolved in time for the 2014 World Cup.
Pele said, "Oh yes, now it's OK. We have a little problem there, everybody knows I worry a little bit because we work two years to have the Olympics, to have the World Cup. And then we get the World Cup, we get the Olympic Games. Then we have a little problem of the administration in Brazil. But this was more in Sao Paolo. Sao Paolo is still now, we don't have or at the stage on the site. But the rest of Brazil is already done. I have been, I think you know, with the president of Brazil, Mrs Dilma (Rousseff), last week and she proposed to do hard work to avoid any problem then they are going to do, no doubt, the best World Cup in the future."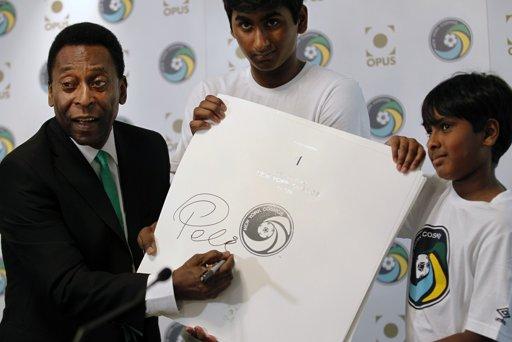 Soccer legends, New York Cosmos' Honorary President Pele signs a signature sheet
during the announcement of the New York Cosmos Opus in London, Tuesday, Aug. 2, 2011.
The New York Cosmos Opus is the definitive publication on one of the world's most
glamorous soccer franchises. Holding the sheet are Cosmos fans Mahesh Ramatrishnan,
center, and Govind Ramatrishnan, right, from New York. New York Cosmos is due to play
Manchester United in a Paul Scholes testimonial match at Old Trafford on Friday, the
first U.S. team to play at the stadium. (AP Photo/Sang Tan)
Editor:Zou Xian |Source: CNTV.CN