Watch Video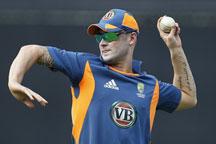 Play Video
While the England cricket team is on its way to the top of the world rankings, former number one Australia is preparing for a tough encounter against Sri Lanka, with the series set to get underway on Saturday in Colombo.
For Australia, it will be Michael Clarke's first test as captain, taking over from Ricky Ponting following a series defeat to England at the start of the year. Sri Lanka will also be looking for signs of renewal following their disappointing exit at the quarter final stage of the most recent World Cup. It is Sri Lanka's first major challenge following a three month break. The visitors will play two 20 internationals, five one dayers and three tests on the tour, with Sri Lankan captain Tillakaratne Dilshan expecting a tough encounter.
Tillakaratne Dilshan said, "This is a very good challenge for us playing against a great team like Australia. As a team we are playing at home and doing our training and everything - we are ready for this series, we want to play good cricket here. Beat Australia, it will be good confidence here - we are ready for this series."
Cameron White, Australian Batsman said, "I am enjoying it a hell of a lot to be honest. It has been a good couple of days, we have trained hard and I think our preparation is well on the way to having us in a very good spot come Saturday for the first game obviously. So far so good."
Editor:Zou Xian |Source: CNTV.CN