Watch Video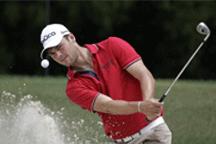 Play Video
The world's top golfers will now shift their attention to the sport's fourth major -- the PGA Championship. As has been the case for the last few grand slam events, there is no favourite in sight and don't be surprised if there's another first time winner. There have been nine first-time winners in the last 10 majors.
The Atlanta Athletic Club in Jones Creek, Georgia will host the 93rd PGA Championship. This event will be competitive as 98 of the world's top 100 golfers are in the field -- and that includes defending champion Martin Kaymer.
Martin Kaymer said, "I haven't played any tournament yet and I think it really doesn't matter if you are defending champion or not. You just have to play as good as you can. You have the same field as last year. You have to beat all those players. And I don't put any extra pressure on myself."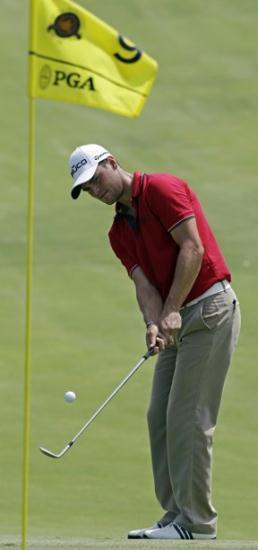 Martin Kaymer, of Germany, chips on the
ninth hole during a practice round for the
93rd PGA Championship golf tournament
Tuesday, Aug. 9, 2011, at the Atlanta
Athletic Club in Johns Creek, Ga. (AP Photo
/David J. Phillip)
Kaymer is among a group of international golfers that has seen recent success at the majors. That includes Masters Champion Charl Schwartzel.
Charl Schwartzel, 2010 Master Champion said, "It's gives you lots of confidence knowing that you are able to win these events. And I'm looking forward to this week."
And if we talk about international golf, we have to discuss Northern Ireland. It has produced three of the last six Majors winners.
Englishman Justin Rose says nationality may not have an intrinsic benefit, but there is something happening. "I don't know why. These things tend to be cyclical. There are just great players right now and everyone seems to be feeding off each other. It's an individual game so it's really tough to go out there and think, 'you know, I'm European, it means I've got a good chance to win'. It doesn't work that way, unfortunately but it's good to see the guys doing well. Yeah, when you see your buddies doing well, it spurs you on. You want a piece of the pie, a piece of action, that's the way it works."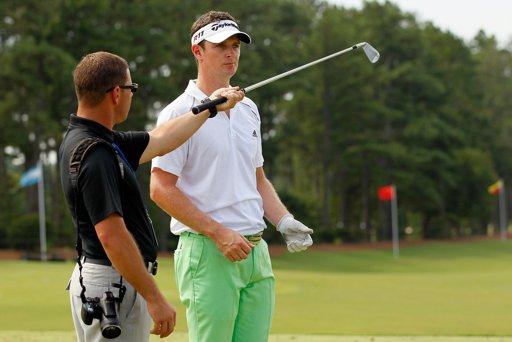 Justin Rose of England works with his coach Sean Foley during a practice round prior
to the start of the 93rd PGA Championship at the Atlanta Athletic Club on August 9,
2011 in Johns Creek, Georgia. (Photo by Kevin C. Cox/Getty Images)
Golfers from Africa, Europe and South America have seen recent success, so it's time for some Asian golfers to make some noise.
Liang Wen-Chong is China's top ranked golfer and set a course record at Whistling Straits -- which hosted last year's PGA. He is hoping to replicate that performance this year. "That round last year at Whistling Straits I played really well. But this year it's a different course, but I'll try and do my best. I'm making all of the necessary preparations to be ready.
So if the recent trend continues -- expect another first time winner to take a kick at this week's PGA Championship -- which could benefit someone like Sergio Garcia who is still looking for his first major title.
Editor:Zou Xian |Source: CNTV.CN