Watch Video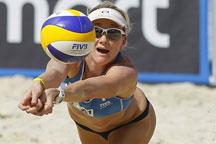 Play Video
What do you get when you mix an iconic London site with over 22-hundred tonnes of high quality sand? Well, you get the 2012 Olympics beach volleyball site.
Horse Guards Parade in London's city centre will be the venue, and the facility has apparently passed its first test with flying colours.
With less than a year to go before the 2012 London Olympic Games gets underway, Horse Guards Parade hosted day one of the Visa FIVB Beach Volleyball International tournament on Tuesday.
Candelas Bibiana, Mexican player said, "It was very nice to (get a) feel (of) the court and the people and the site in general because yesterday we could train here, but it wasn't the same with the people cheering. So it's a very nice place. I think it's very original and symbolic for us to be here and also the people. The people were always cheering, always screaming supporting both teams so it's very very good."
Brittany Hochevar, USA player said, "The venue itself is wonderful but I think what's more breathtaking is the location that it's in. We just kept getting more and more excited as our taxi brought us closer and closer to the venue and we're looking around going oh my gosh. We're here. We're actually here."
Veteran Australian Nat Cook has competed in every Olympics since beach volleyball was first included, back in 1996 in Atlanta.
Cook believes that sand and court are certainly up to Olympic standard. "The court is definitely up to standard. The sand quality is great. It's a little deeper than what we have been playing on in the last nine weeks on our world tour, but you can't get better sand than that and as for locations, Bondi beach might be the only one that beats this, until this time next year when if I'm standing on top (of the podium) with that background, the London Eye and the Prime Ministers house, I think it might beat it."
The international competition in the iconic venue is part of the "London Prepares" series, one of several test events to rehearse arrangements ahead of the 2012 Games.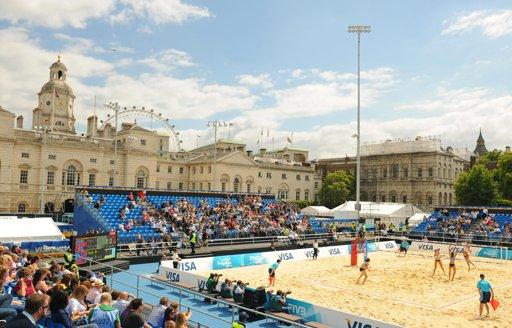 General view of the arena during the preliminary phase of the FIVB Beach Volleyball
International at Horse Guards Parade, London Tuesday Aug. 9, 2011. The FIVB Beach
Volleyball International is also being used as a test event for the London 2012
Olympics. (AP Photo/Dominic Lipinski/PA)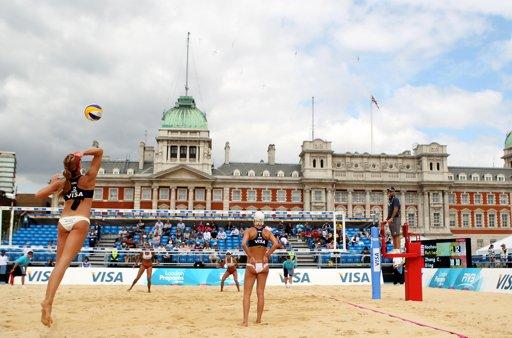 Brittany Hochevar of USA serves during the VISA FIVB Beach Volleyball International
at Horse Guards Parade on August 9, 2011 in London, England. (Photo by Scott
Heavey/Getty Images)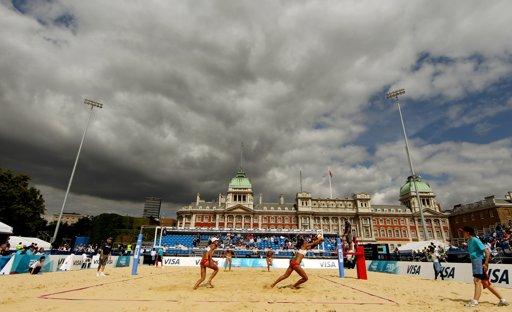 LONDON, ENGLAND - AUGUST 09: A general view during USA v China in the VISA FIVB Beach
Volleyball International at Horse Guards Parade on August 9, 2011 in London, England.
(Photo by Scott Heavey/Getty Images)
Editor:Zou Xian |Source: CNTV.CN