Watch Video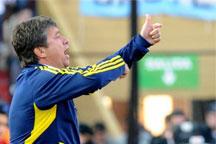 Play Video
Colombia's national football coach Hernan Dario Gomez has resigned after apologizing publicly for punching a woman in a bar.
The Colombian Football Federation made an announcement in a statement which was later confirmed by Bavaria, a major corporate sponsor of the squad. The incident that led to Gomez's resignation occurred on Saturday night at the entrance to a Bogota night club where a woman insulted him, criticizing his work with the national team. Despite a public apology on Monday, there was growing pressure for his resignation.
Fernando Jaramillo, Vice President of Bavaria Corporate Affairs said, "It was a personal decision made by Hernan Dario and I think he made the best decision that he could have, for the good of the soccer, for the good of the squad, for the good of all Colombians and for himself. From the beginning he recognized his mistake - we cannot crucify him publicly but this has very serious consequences when you are a public figure."
Editor:Zou Xian |Source: CNTV.CN