Watch Video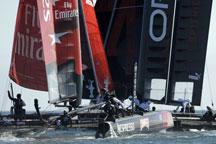 Play Video
The first leg of the first season of the America's Cup World Series is in the books. The series, which will feature a number of events all leading up to San Francisco in 2013, kicked off, off the coast of Portugal. Julie Scheier recaps a hard-fought and closely contested opener from Cascais.
Sunday's Fleet race is a good example of how practice and consistency makes perfect. The race began when James Spithill, the winning skipper in the 2010 America's Cup, jumped to a convincing early lead. But sails quickly turned when Team New Zealand, one of the most consistent teams in this competition, found more wind on their side of the race course and passed Oracle Racing on the second lap. A good call from Skipper Terry Hutchinson, of Artemis Racing on leg four saw the Swedish team cross ORACLE Racing Spithill and move into second place, leaving the youngest skipper to take third place. Oracle Racing's Russell Coutts was fourth, followed by Green Comm Racing, Aleph, Team Korea, Energy Team and China Team. Team New Zealand's victory comes as no surprise to most sailing fans who this week saw the team's continuous consistency. A steadiness that paid off for the kiwis.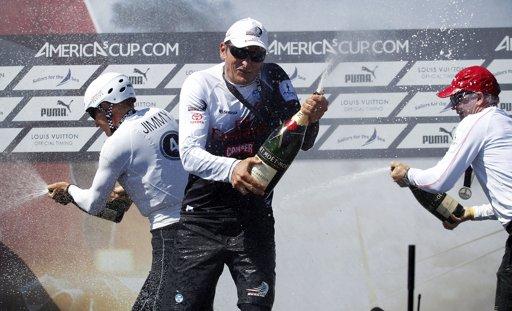 Dean Barker, center, from New Zealand, skipper of the New Zealand's Emirates Team New
Zealand AC45, Terry Hutchinson, right, from the US, skipper of the Sweden's Artemis
Racing AC45, and James Spithill, from Australia, skipper of the Oracle Racing 4 AC45,
from the US, spray each other with champagne after Barker won the America's Cup World
Series Cascais Championship Sunday, Aug. 14, 2011 in Cascais, near Lisbon. Hutchinson
was second and Spithill third. (AP Photo/ Francisco Seco)
Dean Barker, Skipper of Emirates Team New Zealand said, "I am really happy for the team to put up a really good performance when it counts, I am really proud of what the guys achieved, very, very happy to come away with the championship, still a lot we can improve for the next event in Plymouth."
Improvement, more time and training is what China Team is looking for... and what America's Cup representatives believe they need... in order be one of the next coming leaders.
Iain Murray, Americas Cup Regatta Director said, "They just need more time on the boat, there have been signs of brilliance, its just time in the boats, and we are trying to organize more time, they want to sail and they are there practicing, all they need is more time and it will come."
Wu Liang William, Crew of Chinese Team said, "It is a good opportunity, a learning opportunity, you take this chance to try to learn as much as possible, and try to be familiar with the boat, familiar with the Americas cup race, fleet race match race, we are learning and keep moving, we will improve."
Making its debut along with the AC45 catamaran the new guest racer program where each boat takes a guest Aboard to compete with the team saw Chairman Wang Chao Young of China Team get a taste of the action.
Wang Chaoyoung, China Team Chairman said, "I am very proud of our team, this is the first time we have been on a catamaran, we need more practice cola com 45:57:18 I think we will have intensive training from now to Plymouth and hopefully we will catch up."
The magnificence and success of this event was achieved not only by the competing AC 45′s on the water but also by the breathtaking shoreline of Cascais. Bringing all the excitement to sailing fans.
When asked "How important is it for Portugal to have this sailing event." The answer was, Its very important it develops the the sailing culture here in Portugal, since 2007 when we lost the Americas cup to valencia, having here this world series in is great for whole of Portugal and to Cascais of course.
Vox Pop Lady: "I am going to miss it it has been 10 days of excitement."
We've reached port in this first round of the Americas Cup World Series, seeing Team New Zealand seal victory in the winner takes all fleet race. The excitement of the America's Cup World Series will continue in September when the same 9 teams compete in Plymouth in the UK. From us it's a wrap in this first leg of this exciting competition.
Editor:Zou Xian |Source: CNTV.CN