Watch Video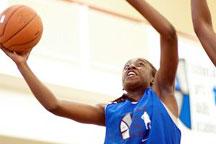 Play Video
One sporting combination that's incredibly difficult to beat is that of siblings. At the World Universiade in Shenzhen, one such combination is on show on the basketball court, with a couple of sisters proving a very powerful act to combat. Zhu Dan finds out more.
Here on the bakstball court, America's No.10 and No.13 look alike, that's because they are sisters playing together in the American team. And people are constantly mistaking each for the other.
Nnemkadi and Chiney Ogwunike of US University Team said, "All the time, even today they give me my points to her, they got confused. It's ok, it's on the same name."
The sisters are currently studying at Standford University, and started playing basketball together when they were young.
The Stanford University women's basketball team is ranked third in the nation. They've won 16 in a row, thanks in large part to the Ogwumike sisters, Nnemkadi "Nneka" and Chiney.
Nnemkadi and Chiney Ogwunike said, "We just love playing as sisters, we were close since we are close in age..."
Siblings are thought to be able to read each other's minds, and these sisters may be proof. As they say, it certainly helps on the court.
They said, "I would have to say yes, we are sisters, and we know each other."
The sisters' family name, "Ogwumike", means warrior in Igbo, one of the national languages of Nigeria, where their parents were born. But they say they seldom live up to that name when it comes to family matters.
They said, "Not often, not really, we don't even fight, I guess we fight on the court, against other people, not against each other. "
Reporter Zhu Dan said, "The sisters share a lot, but they also share the same dream of one day representing their country in the Olympics. Zhu Dan, CCTV, Shenzhen."
It can be hard to keep up with Stanford's Ogwumike sisters, freshman Chiney (left) and junior Nneka. Credit: Michael Macor / The Chronicle
Editor:Li Wanran |Source: CNTV.CN