Watch Video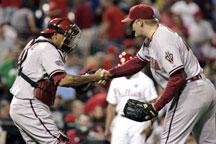 Play Video
Phillies ace Roy Halladay was looking to become the National League's first 16-game winner. But standing in his way was a Diamondbacks team that had won six straight contests.
Philadelphia had won 10 straight at home with Halladay on the mound. Second Inning and Lyle Overbay gives the visitors a 1-0 lead with an RBI single. Arizona picked up the veteran last week after he was released by Pittsburgh.
Same score in the fifth and Shane Victorino bludgeons a two-run blast into the right-field seats to put the home side ahead 2-1. Halladay had retired 12 straight batters going into the ninth -- but Overbay would turn the tide, his 2-run double giving Arizona a 3-2 lead.
That would be the decisive blow as the D-backs bullpen was able to shut the door in the ninth and hold on for a 3-2 win.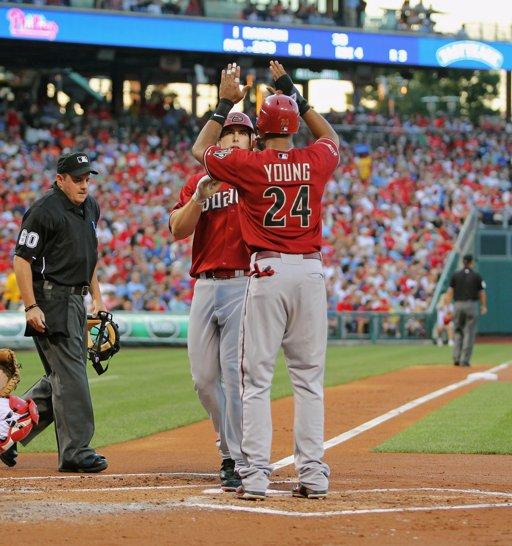 PHILADELPHIA , PA - AUGUST 17: Chris Young #24 of the Arizona Diamondbacks celebrates
teammates Paul Goldschmidt #44 second inning homerun against the Philadelphia Phillies
at Citizens Bank Park on August 17, 2011 in Philadelphia, Pennsylvania. The Phillies
defeated the Diamondback 9-2. (Photo by Len Redkoles/Getty Images)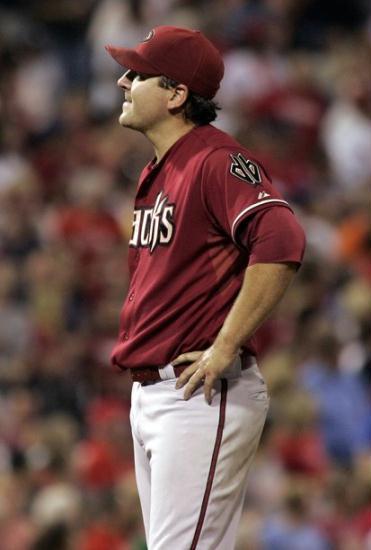 Arizona Diamondbacks starting pitcher Joe Saunders waits to be
pulled from the game after giving up three runs in the seventh
inning of a baseball game with the Philadelphia Phillies,
Wednesday, Aug. 17, 2011, in Philadelphia. The Phillies won
9-2. (AP Photo/Tom Mihalek)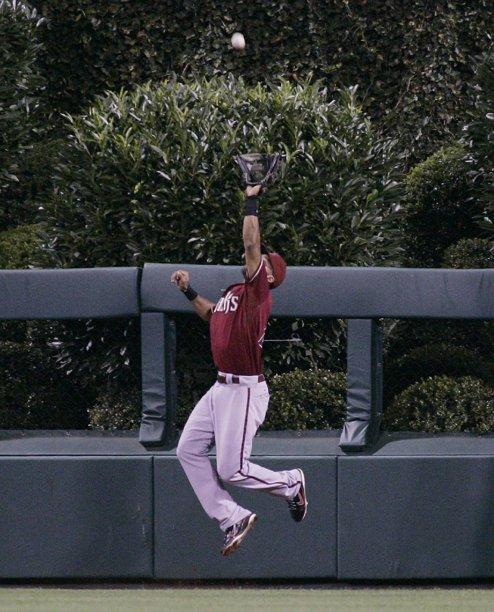 Arizona Diamondbacks Chris Young leaps to make the catch of Philadelphia Phillies
Ben Francisco's sacrifice fly during the seventh inning of a baseball game,
Wednesday, Aug. 17, 2011, in Philadelphia. The Phillies won 9-2. (AP Photo/Tom
Mihalek)
Editor:Zou Xian |Source: CNTV.CN