Watch Video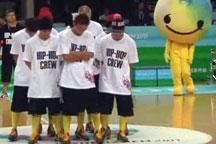 Play Video
Youthful enthusiasm is as much a part of the Games as the athletes themselves. CCTV'S Zhu Dan met a team of young people who are keeping the excitement going even as the players take a break.
Typically we see female dancers firing up fans during games – but at the Shenzhen Universiade it's a group of male hip hop dancers that are making fans cheer.
Mental Fusion Team, Universiade Warm Up Team said, "We feel so honored to come here to perform."
All the members are from Shenzhen,and most have been dancing for more than ten years. That is almost half their lives.
What you see here is their exciting performance, but what you can't see is the hard work they put in during practice.
The team spends at least seven hours at the stadium each day. It can make for an exhausting day so they try and rest whenever they can.
Mental Fusion Team during interview with CCTV.
Mental Fusion Team said, "It is a hard job of course, but it's ok it makes it easier for us to perform on the stage."
"We want to show people our energetic sprit, and also show the world the hip hop culture in China during the Universiade."
Just like the team's name, "Mental Fusion", these young guys use their creativity, trying to find some fusion in Chinese and western culture.
Mental Fusion Team said, "Our dance is originally from western countries, but now we create a special song with Chinese music, so our culture can be integrated with western culture. It will be interesting."
Editor:Zou Xian |Source: CNTV.CN