Watch Video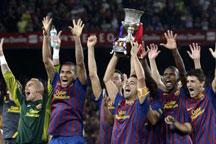 Play Video
Two high-powered football rivals staged another classic battle in the second leg of the Spanish Super Cup. Barcelona hosted Real Madrid in the Super Cup's second leg on Wednesday. The tie stood level at 2-all after the first leg in Madrid.
The teams played the first half at a fever pitch. Lionel Messi beat two challengers and delivered the ball to Andreas Iniesta for the first score after 15 minutes.
Barcelona led it 1-0.
Real Madrid came right back. Watch this corner kick find its way to Cristiano Ronaldo, he flicked the ball into the net and leveled the scoreline at the 20 minute mark. Then, Barcelona delivered the next punch. A corner went to Messi,and he worked with Gerard Pique to close in on the goal. Messi finished off the play and Barca held the lead at halftime.
It would stay that way through most of the second half, and then Real struck again in the 82nd minute. Kaka sent in a corner kick and Karim Benzema made the most of a second chance for a dramatic match-tying goal.
But there was plenty of time left for heroics from Messi. He scored with two minutes left to play, and Barcelona secured the Super Cup in front of a raucous crowd at the Nou Camp, 5-4 on aggregate. The game ended on a bad note after a Cesc Fabregas foul right at the near sideline. Real's Marcelo, Mesut Ozil and Barcelona striker David Villa were all sent off, and even Real Madrid coach Jose Mourinho got into the fray...in the latest chapter of a wild Spanish rivalry.
Editor:Zou Xian |Source: CNTV.CN