Watch Video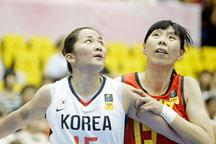 Play Video
China's successful women's basketball team, an eleven time winner of the Asian Championships, took on South Korea in their group opener at the current Asian Championships underway in Nagasaki, Japan on Sunday.
China's starting line-up this time includes mostly young players seeking experience in international events. South Korea got the upper hand and cruised to an 11-1 lead in the first quarter.
But China strengthened its defence with veteran Chen Nan who received Miao Lijie's pass to add to the scoreline. China went on to level the game 16-all at quarter time.
In the second quarter, China took the lead for the first time with Miao's jump shot making it 18-16. But a couple of three pointers to South Korea put them ahead again, 26-20. South Korea kept their momentum and led by 8 points at half time.
In the third quarter, China managed to cut the gap to a single point with this jump shot from rookie Yang Banban, 43-44. Late in the third, Xu Nuo shot the defending champion's first three-pointer of the game and equalized at 48-all.
Yang Banban led a counter-attack with four minutes remaining in the third. The two sides were tied again at three quarter time, 55-all. China then hit form building an 8-point lead in the fourth quarter. But South Korea clawed back. 32 seconds remaining, South Korea leveled, 76-all. Neither side was able to break the deadlock and the game went into OT.
The lead was traded several times, seconds remaining, China failed to make one of the two free throws and the game was tied again at 86-all.
So another OT, 58 seconds remaining, South Korea gets the ball in and draws the foul, the three-point play gives them a 5 point lead. China was unable to come back for a final time. South Korea winning a thriller, 99-93.
Editor:Zou Xian |Source: CNTV.CN