Watch Video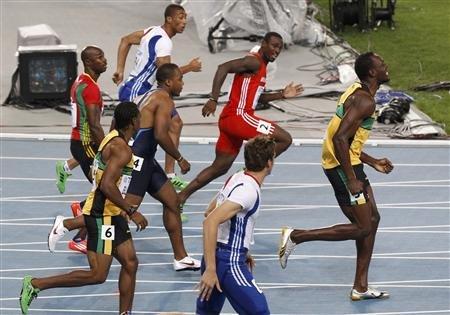 Play Video
In Daegu, South Korea, the World Athletic Championships, where the stage was set for the biggest star of the World's to shine this evening. Usain Bolt, attempting to retain his world title against, what was, a weakened field. Main rivals Tyson Gay of the US and fellow Jamaican Asafa Powell, both out with injury, but the unthinkable would happen.
Bolt, cruised, relatively unchallenged through the qualifying heats and lined up in lane five for the final. But Bolt, jumped out of the blocks early, and was disqualified. Bolt, clearly jumping early, the look on his face showing that he knew it right away as he ripped his shirt off in disgust. Truly a reminder that anything can happen in this crazy world of sports.
So, with the crowd in shock, the runners returned to their starting lanes, and with an empty lane five, it would be Bolt's compatriot Yohan Blake in lane six that would power his way to the line to take the World gold in a time of 9.92 seconds. Walter Dix of the US, taking the silver, Kim Collins of Saint Kitts and Nevis the bronze.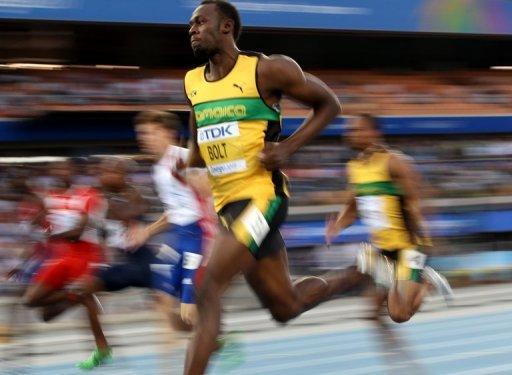 Jamaica's Usain Bolt approaches the finish line to win his men's 100 metres semi-final
at the International Association of Athletics Federations World Championships in
Daegu. A bookmaker has offered odds of 5/2 that false start rules will be changed to
permit two rather than the present permitted one before the 2012 Olympics after Bolt
was sensationally disqualified from the world 100m final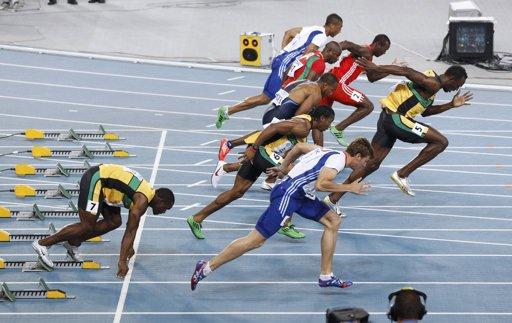 Usain Bolt of Jamaica (R) makes a false start as Nesta Carter of Jamaica stays in the
blocks in the men's 100 metres final at the IAAF World Championships in Daegu August
28, 2011. Bolt false started and was disqualified from the world athletics
championships 100 metres final on Sunday. REUTERS/Kim Kyung-Hoon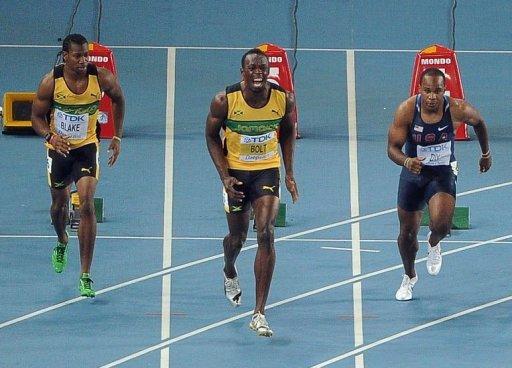 Jamaica's Usain Bolt (C) reacts as Jamaica's Yohan Blake (L) and US sprinter Walter
Dix (R) look on following a false start for which Bolt was disqualified in the men's
100 metres final at the International Association of Athletics Federations (IAAF)
World Championships in Daegu
Editor:Zou Xian |Source: CNTV.CN