Hurricane Irene, wreaking havoc on the weekend Major League Baseball sked, however, the Boston Red Sox and Oakland Athletics were just able to beat the storm and get in their doubleheader on Saturday. The Red Sox, taking the opener 9-3 and had a chance to move three up on the idle New York Yankees in the AL East with a win in the second.
The grounds crew at Fenway earning their pay, getting the field in shape for the second half of Saturday's doubleheader.
Top of one, and Boston starter Erik Bedard gets himself in a jam. Bases loaded for Scott Sizemore, but he grounds out weakly too short to end the threat. Bedard, escaping the first unscathed.
Top of two, Bedard back in trouble again, with runners on the corners. Bedard, though getting Coco Crisp way out ahead on the nasty change-up.
Bedard struck out five over four innings pitched and didn't allow a run.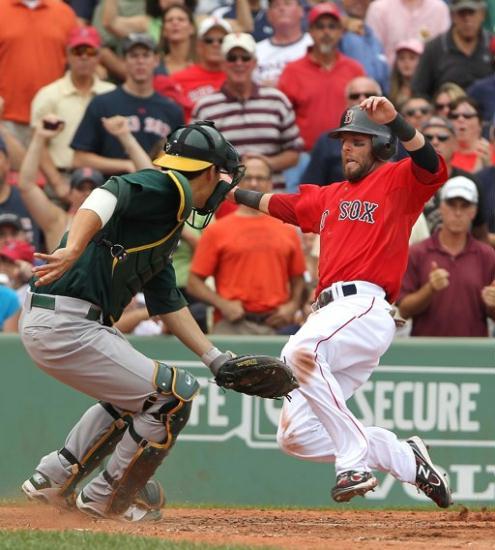 BOSTON, MA - AUGUST 27: Dustin Pedroia #15 of the Boston Red Sox slides home on a
hit by teammate David Ortiz #34 of the Boston Red Sox as Kurt Suzuki #8 of the
Oakland Athletics defends the plate in the third inning at Fenway Park August 27,
2011 in Boston, Massachusetts. (Photo by Jim Rogash/Getty Images)
Boston gave him some run support in the bottom of the inning. With a man on second David Ortiz hit a towering shot and the ball sailed into the seats on top of the Green Monster for a home run - Big Papi's 27th of the season. Boston, up 2-0.
Bottom of four, the Sox load them up for Jarrod Saltalamacchia, he rips one down the first base line. Brandon Allen with a great stab to save a couple runs, but Dustin Pedroia comes across to give Boston a 3-0 lead.
Rain, would hit again in the top of the fifth, delaying the game for about an hour.
Saltalamacchia didn't let the weather cool him down and he knocked in another run once the game resumed. His little fly to right couldn't be caught by Allen and Jed Lowrie scored to make it 4-0 for the Red Sox.
Allen had ran out from first to try to make the catch but it bounced off of the heel of his glove. He somehow lost his footing on the wet grass.
Thankfully, Allen hurting nothing but his pride here. The A's bats, silent in the back-half of the twinbill. Jonathon Papplebon, closing things out. The Red Sox, sweep the double-header and move three games up on the Yankees in the AL East.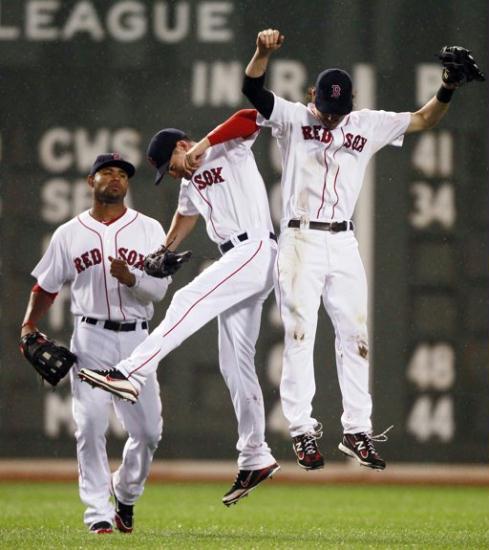 Boston Red Sox outfielders Jacoby Ellsbury, center, Josh Reddick, right, jump in
the air as Carl Crawford looks on after the Red Sox beat the Oakland Athletics
4-0 in the second game of a baseball doubleheader in Boston, Saturday, Aug. 27,
2011. (AP Photo/Michael Dwyer)
Related stories
Editor:Zou Xian |Source: CNTV.CN