Watch Video
Play Video
Djokovic was able to add another chapter to his story book run this season, collecting his first US Open trophy and third grand slam title this year.
After winning the Australian Open, Wimbledon and now the US Open, the 24-year-old Serb is just the 6th man in the open era to collect three major titles in a single season. He joins a select group which includes his rivals Roger Federer and Rafael Nadal.
His victory at Flushing Meadow, increases his lead over Nadal in the rankings to 41-hundred points. That should be enough of a cushion to see him hold onto the top spot till the end of the year. Djokovic is now an incredible 64-and-2 this season --- which includes 10 tournament titles. Of his two defeats, one was in the French Open semifinals, against Roger Federer, which also put an end to his 43-match winning streak. The other came at the hands of Andy Murray at the Cincinnati Masters last month -- but Djokovic retired in that match because of an injured shoulder. The world number one will come to Beijing for the China Open later this month, where he is the two-time defending champion.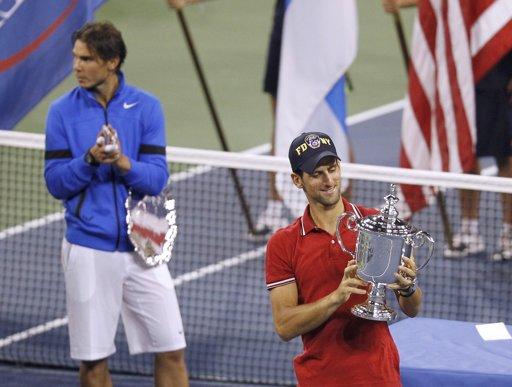 Novak Djokovic of Serbia (R) and Rafael Nadal of Spain hold their trophies during the
presentation ceremony after Djokovic won the men's final of the U.S. Open tennis
tournament in New York, September 12, 2011. REUTERS/Eduardo Munoz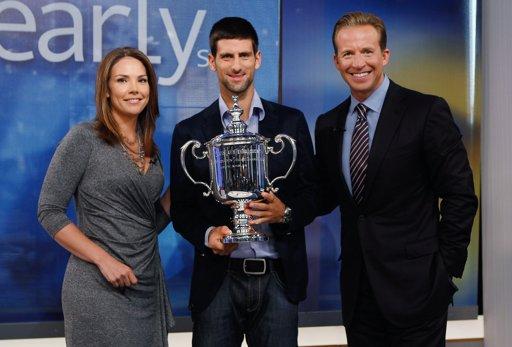 2011 US Open Singles Men's Champion Novak Djokovic of Serbia poses with Hosts Erica
Hill and Chris Wragge on the set of CBS the Early Show on September 13, 2011 in New
York City. Djokovic defeated Rafael Nadal of Spain in 4 sets during their match
September 12, 2011 at the USTA Billie Jean King National Tennis Center. (Photo by
Mike Stobe/Getty Images for ATP)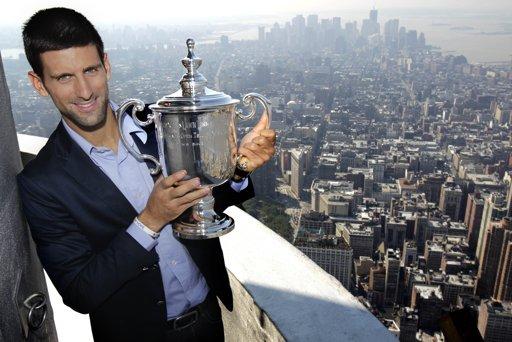 Novak Djokovic, of Serbia, poses with his U.S. Open trophy at the top of the Empire
State Building in New York, Tuesday Sept. 13, 2011. Djokovic defeated Rafael Nadal
Sunday to win his first U.S. Open tennis championship and third Grand Slam trophy of
the year. (AP Photo/Seth Wenig)
Editor:Zou Xian |Source: CNTV.CN