Watch Video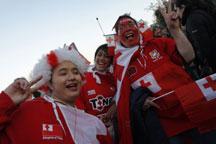 Play Video
It wasn't all hard work for the Canadians on the eve of Wednesday's opening match against Tonga. The team went to visit the children of Kamo Primary School in Whangarei.
The enthusiastic kids bombarded the Canadian squad with questions and waved the Canadian flags in recognition of Whangarei's "Paint it Red" campaign. Canada is in a tough pool which also features New Zealand, France and Japan. They are not expected to reach the knockout stages so are enjoying the opportunity of spreading the message of the World Cup to all parts of the country.
Jamie Mackenzie, Canada Scrumhalf said, "You're so far from home so it's nice that the region has kind of adopted us as their team. It feels like we've got a good support base here. Everyone's really behind us, they're all cheering for us, all the kids in there were telling us they want us to beat Tonga. I know that's a little "iffy" because Tonga's another team that they're also hosting up here, but we enjoy it, definitely."
Editor:Zou Xian |Source: CNTV.CN