Watch Video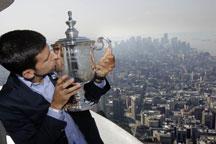 Play Video
After winning his third grand slam title of the year, Novak Djokovic spent Tuesday morning making several media appearances in New York City.
Among those was a stop at the observation deck on top of the Empire State Building which rises high above the Manhattan skyline. The newly crowned US Open champion met with the press to discuss his epic four set victory over Rafael Nadal the night before, the latest chapter in a fairytale season for the 24-year-old Serb in which he won three of the four grand slam titles and has amassed a daunting 64-2 overall record - he also pocketed more than 10 million US dollars in earnings, more than anyone has ever taken home during a full season of men's tennis.
Novak Djokovic said, "Yeah, it's a lot of pride, It's a lot of positive feelings. I'm really filled with lovely, lovely memories of last night. And I'm thrilled to be in this position. It's been a dream year for me, I've played some fantastic tennis in the later stages of the tournament, in the semi-finals against Roger and in the finals against Rafa, when I needed to come up with my best performance I did, and now I'm about to enjoy the success that I had."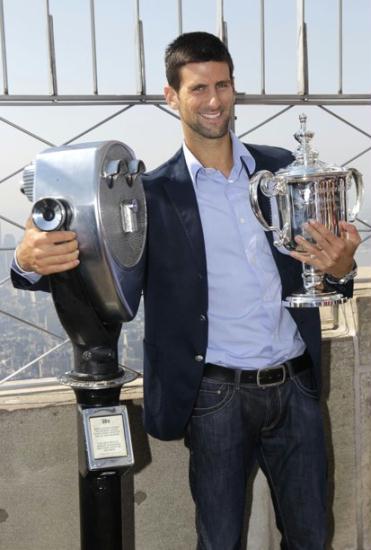 Novak Djokovic, of Serbia, smiles at the top of the Empire
State Building in New York, Tuesday Sept. 13, 2011. Djokovic
defeated Rafael Nadal Sunday to win his first U.S. Open tennis
championship and third Grand Slam trophy of the year. (AP
Photo/Seth Wenig)
Editor:Zou Xian |Source: CNTV.CN